Emirgan Grove, Sarıyer - Istanbul - Turkey
GPS : 41°06'34.8"N 29°03'24.9"E / 41.109659, 29.056904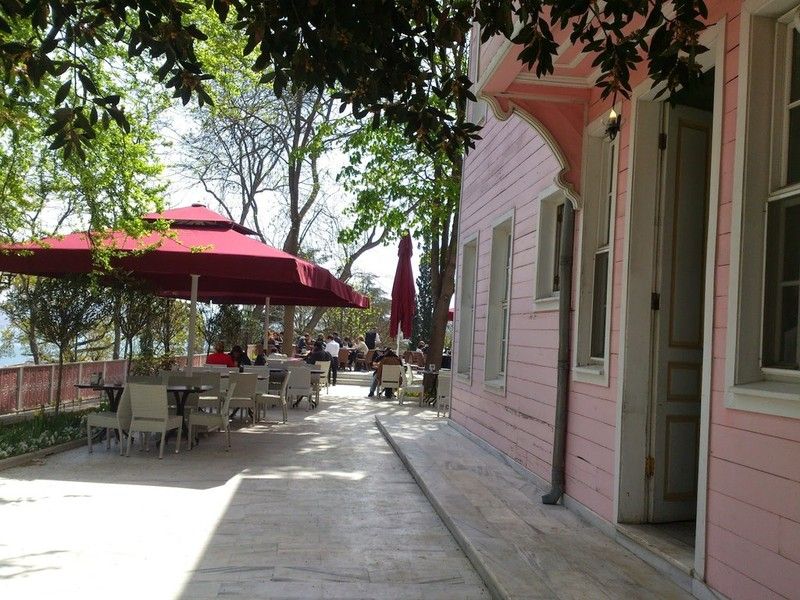 PHOTOGRAPHS ALBUM
The Pink Pavilion (Turkish: Pembe Köşk), one of the three mansions in the park built by Khedive Ismail Pasha, is a two-storey, typical Ottoman house. Named after its exterior's original color of cranesbill flower pink, the pavilion reflects the glory of its history with fine ornaments.
The Pembe Köşk is a typical two-story Ottoman house with wooden coated walls, painted in sardine pink color. It suites its name and will embrace you as soon as you go in. It has three entrances: protocol, front and personnel entrance. At the main entrance there is a spacious hall and two rooms opening into this hall, and there is another secret room entered through protocol entrance.
The first floor also houses a bathroom and a kitchen. A large stairwell from the hall goes up to the second floor, where there is again a big hall, two big rooms and also another five big rooms past the aisles and two small case rooms. It was repaired and restored by Turing in 1982 and transferred to the Municipality of Metropolitan Istanbul in 1995.
The pavilion offers a la carte service during weekdays and with breakfast in the morning and an open buffet in the afternoons during the weekends. Furthermore, it available for conventions and wedding ceremonies. In the summer months, the premise can accommodate up to 350 guests, for cocktails up to 500 people. In the winter time, groups of up to 150 guests can be served.
LOCATION SATELLITE MAP
WEB SITE :
Beltur / Pink Pavilion
MORE INFO & CONTACT
E-Mail :
info@beltur.com.tr
Phone : +90 212 413 9253 / +90 216 444 6644
Fax : +90 212 413 9474
These scripts and photographs are registered under © Copyright 2017, respected writers and photographers from the internet. All Rights Reserved.