Cağaloğlu, Fatih - İstanbul - Turkey
GPS : 41°00'47.8"N 28°58'20.3"E / 41.013278, 28.972306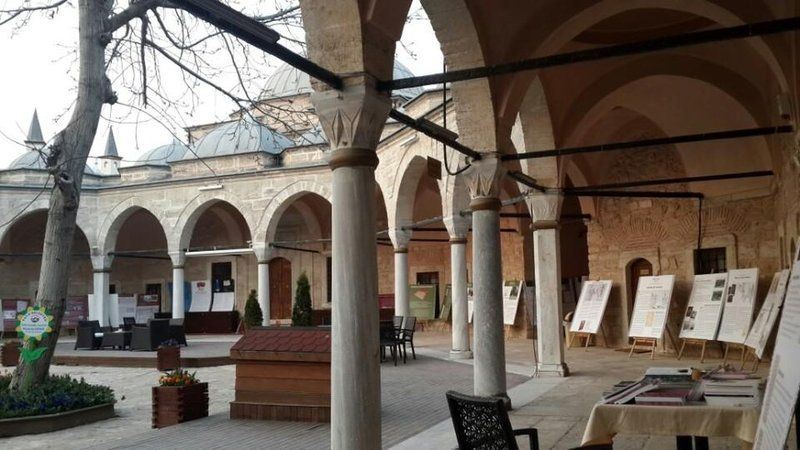 PHOTOGRAPHS ALBUM
Rüstem Pasha Madrasah was built by Mimar Sinan with Rüstem Pasha 's support who is the son in law of Kanuni Sultan Süleyman and became grand veziriate of Süleyman in later periods between 1544-1533 and 1533-1561.
Although the date in which the madrasah was established is commonly known as being 1547, in its inscription the date is shown to be 1550, as documented in a four-line inscription in Persian. The madrasah has architectual qualities that are highly regarded and which stand out as unique from its surroundings.
Mimar Sinan, in this particular monument, used a different style than the other madrasahs in Istanbul with the repetition of the octagonal yard system that was used in Kapı Ağası Madrasah in Amasya in 1488.
The structure; which has a square shape in the outside has 24 rooms inside that had been placed behind surrounding octagonal porches. The plan of the corner rooms that enables the passing from the square system to the octagon system is only tried in this madrasah by Sinan.
Rüstem Pasha Madrasah is an edifice in terms of its size, style and arhitectural design that is built for the name of sultans. Like most other Ottoman monuments, its outer walls are composed of limestone. Its octagonal courtyard measures 43 x 43 m and it has 23 rooms.
The madrasa comprises an octagonal courtyard within in a square-shaped structure. The main entrance is located on the eastern elevation and leads to the courtyard through an octagonal domed portico with drop arches based on piers with capitals on the corner and a set of two intervening columns. Seven paths paved in stone lead to the octagonal ablution fountain with a pyramidal roof in the middle of the courtyard.
The construction that was used as the madrasah until the 19th century in the Ottoman period was also used as an orphanage and as a college dormitory in 20th century. It was restored in the years of 1843,1868,1893,1903 and 1916.
It was recently restored by the Fatih Municipality in 2009 and in 2012, and it was assigned to the Istanbul Foundation for Science and Culture to be used for cultural and scholarly purposes. It now has 4 rooms which are each part of a permanent museum to show historical documents.
The building was damaged in the fire of 1666 and during the earthquake of 1776 but used as a madrasah until 1869. The madrasah functioned as a shelter for the homeless after 1870 and then was converted into a dormitory in 1966 after restoration. The building was assigned for public service in 1978.
LOCATION SATELLITE MAP
WEB SITE :
İstanbul İlim Kültür Vakfı
MORE INFO & CONTACT
E-Mail :
iikv@iikv.org
Phone : +90 212 527 8181
Fax : +90 212 527 8080
These scripts and photographs are registered under © Copyright 2017, respected writers and photographers from the internet. All Rights Reserved.