Beyazit, Fatih - Istanbul - Turkey
GPS : 41°00'31.7"N 28°58'07.3"E / 41.008806, 28.968694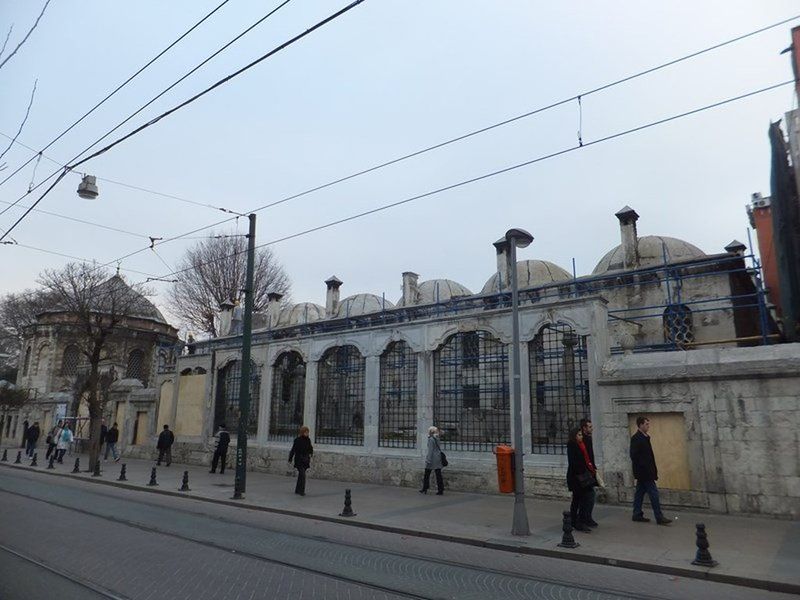 PHOTOGRAPHS ALBUM
The building close to Atik Ali Pasha Mosque and on Yeniçeriler Street was built by Architect Davut Ağa in 1593 for Grand Vizier Sinan Pasha. The complex was constructed of cut stone, and it is regarded as one of the best works of classical Ottoman architecture. A large area of the complex was converted into a graveyard in the 18th century.
The madrasah consisted of 16 rooms on three sides of the square planned and porched courtyard. It was restored first in 1869. The hand - carved works inside the classroom remain from the 19th century. This cut stone tomb with 16 corners, which was built for Sinan Pasha, is spectacular. Moreover, the fountain's inscription with 16 lines, gives us a great deal of information including the name of the architect and the date of the complex.
The domed classroom, used also for prayer (mescit), has a square plan extended with a northern iwan. Passing through its portico, we enter off-center into the madrasa courtyard, which is enveloped by a domed arcade on all sides.
The arcade gives access to sixteen madrasa rooms on three sides of the courtyard and has a plain wall with windows to the west. Each room is equipped with shelving niches and a furnace, and has windows looking onto the courtyard and the exterior.
An octagonal marble fountain, protected by a pitched roof raised on eight columns, occupies the center of the courtyard, which also has a well and a marble trough. The madrasa extends most of the way to Yeniçeriler Street to the south where more tombstones are placed between the madrasa and precinct walls.
Today the madrassah is used by Hizmet Vakfi, a charity publishing copies of the Qur'an as well as books related to Islam.
LOCATION SATELLITE MAP
WEB SITE :
Hizmet Vakfı
MORE INFO & CONTACT
E-Mail :
info@hizmetvakfi.org
Phone : +90 212 514 4444
Fax : +90 212 517 7758
These scripts and photographs are registered under © Copyright 2017, respected writers and photographers from the internet. All Rights Reserved.