Bağlarbaşı, Üsküdar - İstanbul - Turkey
GPS : 41°01'41.4"N 29°02'29.5"E / 41.028167, 29.041528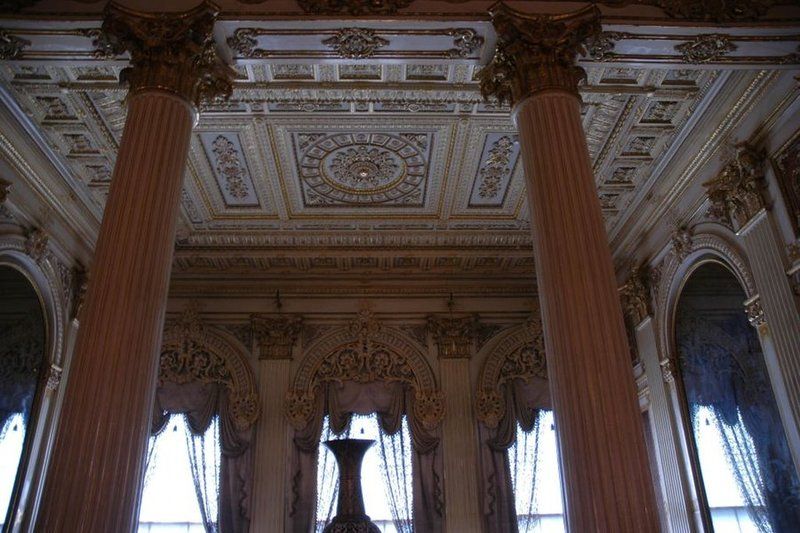 PHOTOGRAPHS ALBUM
This is located on Gümüşyolu Street, accross from the Jewish graveyard. It was built for the last caliph Abdülmecid, when he was a prince. The area, known as the grove of Abdülmecid Efendi, measures about 160 acres. It is located in Bağlarbaşı, and descends down towards Nakkaştepe and Beylerbeyi. Before Abdülmecid, it used to belong to Hidiv Ismail Paşa.
On the enamelled tiles above the gate it is written: "There is no victor but Allah." This statement was used in the palaces, mosques and coins of the Andalusian Ummeyyades.
The same statement can be seen in the Yıldız Palace, which was built by Sultan Abdülhamid II, modeled on the Andalusian palaces. The gate is the most beautifully ornamented pavilion gate in İstanbul. On the walls and above the doors there are written many verses taken from Turkish and Arabic poets.
Abdülmecid Efendi (1 June 1868-23 August 1944) was born in Dolmabahçe Palace as the son of Sultan Abdülaziz and Hayranidil Kadınefendi, in his younger ages he was enrolled in the artillery branch of the army and he was educated by Halil, Hüseyin and Said Paşas. He was interested in horsemanship, hunting, wrestling, fencing and painting and music, he developed his art as a painter.
Abdülmecid Efendi who knew French, Persian, Arabic in good level, learned also German and English as much as to follow the publications. Abdülmecid Efendi who was in close relations with art and literature circles, during his princehood worked in Feriye Palace in winters and in the ateliers situated in Bağlarbaşı Köşkü in summers.
When he became hair apparent, he continued working in Dolmabahçe Hair Section and in his atelier in Dolmabahçe, when he settled here as caliph. Abdülmecid Efendi became the honorary president of the Ottoman Painters Association founded in 1909 and he supported financially for the publication of Ottoman Painters Association Newspaper.
The first of 1914 generation besides supporting Galatasaray exhibitions opened in Galatasaray Dormitory in 1916, he himself participated in this activity by his paintings. The supports and interest of Abdülmecid Efendi for the painting was not limited with this. Another one is the activity named as Şişli Atelier. The art works produced in Şişli Atelier took their place in Vienna Exhibition in 1918 that was the first exhibition opened in Europe by Turkish painters.
Abdülmecid Efendi, participated to 1918 Vienna exhibition by his paintintings, "Otoportre", "Harem'de Goethe", "Harem'de Beethoven" and "I.Sultan Selim". In 1 November 1922 as the sultanate and the caliphate were separated and as Sultan Vahideddin left Istanbul in 17 November 1922, Abdülmecid Efendi was chosen caliph by Turkish Grand National Assembly.
In 3 March 1924 caliphate was abolished by law and the Ottoman Emperor was sent abroad. Abdülmecid Efend first went to Switzerland then to Nice in France and he settled in Paris. In 1944 he died here and he was buried in Medine Cenetül-Baki tomb.
Today, the pavilion is used for the social activities of Yapı Kredi Bank.
LOCATION SATELLITE MAP
WEB SITE :
Department of National Palaces / Abdulmecid Efendi Pavilion
MORE INFO & CONTACT
E-Mail :
millisaraylar@tbmm.gov.tr
Phone : +90 212 236 9000
Fax : +90 212 259 3292
These scripts and photographs are registered under © Copyright 2017, respected writers and photographers from the internet. All Rights Reserved.