Beykoz Grove, Beykoz - İstanbul - Turkey
GPS : 41°08'17.4"N 29°04'53.7"E / 41.138167, 29.081583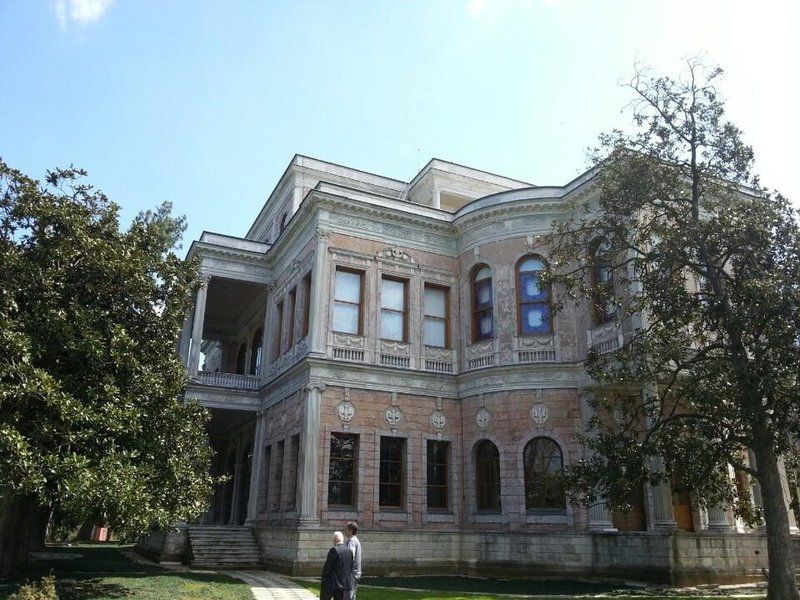 PHOTOGRAPHS ALBUM
The construction of Beykoz Pavilion started by the order of Mehmed Ali Pasha, Governor of Egypt in 1845 and upon his death completed in 1854 by the order of his son as a present to Sultan Abdülmecid who used to go Beykoz Çayırı and Tokat Promenade on the hills of Hünkar İskelesi. As it was dedicated to Sultan Abdülmecid, it's also called Mecidiye Pavilion.
Close to Hünkar Quay, Beykoz Pavilion was built by Mehmet Ali Pasha, Khedive of Egypt, for Sultan Abdülmecit and designed by Nigogos and Sarkis Balyan. The construction work, which was initiated in 1855, were later completed by Said Pasha, son of Mehmet Ali Pasha, in 1866. The first brick structure on the Bosphorus, the pavilion was given as a gift to Sultan Abdülaziz when it was completed.
It's situated on the top of a grove park with a landscape design of layered terraces beginning from the seaside. In its early days Sultan was used here as a short time residence while riding in the area, but later foreign statesmen and ambassadors were received there. Although it was meant to be an imperial building because of its uptown location and pleasant weather it was assigned for public service even in Ottoman period and became an orphanage.
During the following years, the pavilion functioned initially as an orphanage and later as a Trachoma hospital. The building, later became a Tuberculosis Research Hospital in 1963. It is now Children Thoracic Diseases Hospital. In 1920s it became a preventorium and then a Chest Diseases Hospital for children until 1999 when it was taken over by Head Department of National Palaces and restoration works began to open it to public as a museum.
The two-storeyed, half-timbered building has a symmetrical plan and neo-classical façade and designed as a hall in the middle with rooms surrounded. Photographs of the pavilion taken during the reign of Sultan Abdülhamid II reveal its rich decoration with gilded furnitures, upholsteries and curtains of Hereke fabrics, Baccarat vases and big crystal chandeliers.
The stones used on the facade of this pavilion were brought from Italy. This two storey square planned structure's rooms are located adjacent to the halls on floors. In the pavilion, in whose interior space marble was used, there is no kitchen and bath since it was not used for accommodation.
There's a resting pavilion in the garden, known as "Mountain Hamam (ancient Turkish bath)"; its inner walls are covered with oyster shells. An artificial cave, within the two hundred acre garden, two domed rooms and the walls were decorated with oyster shells.
LOCATION SATELLITE MAP
WEB SITE :
Department of National Palaces / Beykoz Pavilion
MORE INFO & CONTACT
E-Mail :
millisaraylar@tbmm.gov.tr
Phone : +90 212 236 9000
Fax : +90 212 259 3292
These scripts and photographs are registered under © Copyright 2017, respected writers and photographers from the internet. All Rights Reserved.