Zeytinburnu - İstanbul - Turkey
GPS : 41°00'57.0"N 28°55'11.7"E / 41.015833, 28.919917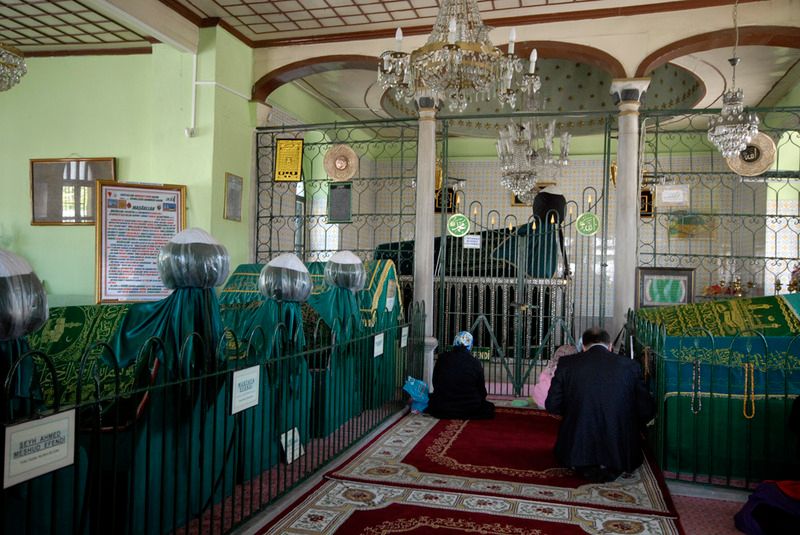 PHOTOGRAPHS ALBUM
Located in Istanbul's Topkapı-Yedikule district, Merkez Efendi is a small complex consisting of a mosque and the grave of Merkez Efendi. Merkez Efendi was born Musa bin Muslihiddin bin Kılıç in 1463 in Denizli. He has been described as polite, lovable, good hearted and radiant of face. He loved children and animals. In fact he was known for keeping food in his pocket to distribute to children. When he was 15, he went to Bursa to study religion under one of the great scholars of the century and became a member of the Halvetiyye mystic sect.
Later he went to Istanbul and became a disciple of Sünbül Efendi who was also a member of the same sect. It was Sünbül Efendi who gave him the name Merkez (Center) after asking him what he would or wouldn't do if he had been the person who created the world. He replied that he would leave everything as it was in its central place. So he became Merkez Efendi. He married Sünbül Efendi's daughter.
Merkez Efendi returned to Denizli but then was summoned to Manisa to preside over the mosque, the sect's lodge and the hospital for the insane that Kanuni Sultan Suleyman had built in his mother's name. While there he discovered the "candy" that contains all sorts of spices and is supposed to heal the sick. To this day the candy is distributed by throwing the pieces to crowds that gather on March 22.
Merkez Efendi returned to Istanbul following the death of Sünbül Efendi where he took over his position as head of the lodge. He died in 1551 when he was 91 years old and was buried there.
Merkez Efendi Dervish Lodge It is known that Musa Muslihiddin Efendi, one of the great scientists of 15th century, has developed the mesir macunu (a candy made to a special recipe and believed to have healing properties against 1001 sicknesses) when he was residing in Manisa to serve as a doctor.
He was a distinguished person to make an exceptional position in Istanbul in a short time for his having dedicated all his lifetime for humanity and with his scientific know-how he had gained. Other scientists acknowledged his labours. The sheiks was rather meticulous about praying practices and was sparing special attention to praying together with the public and he was a God blessed man who spent all his life time to charity, praying, religious affairs and for the protection of the poor and the needy ones.
Merkez Efendi Külliyesi is now located within an area surrounded by a belt of numerous cemeteries which used to be a completely deserted area outside the walls. This first tekke (lodge) building is a very simple and plain one and was manually built by Merkez Efendi and by some connected people.
This tekke outside the city walls was furnished in the first half of the 16th cebtury with trusts by Şah Sultan, sister of Sultan Süleyman the Magnificent, and the architectural structure was enlarged and improved. Furthermore the mosque and uniting room (tevhithane) were renewed by Mimar Sinan (The Architect) and a hamam (bath) was added, so that it has become a complete complex in the course of time.
By linking several other trusts they increased the income and the proceedings of the complex. It is known that the turbeh could not preserve its original structure till today and was re-built by Sultan Mahmut II. According to its authentic architecture. The façade of the turbeh facing west has become a pilgrimage identity.
Following the abolishment of the tekkes in 1925, the mosque section still continued to serve. We owe the tekke's surviving until today to the repair works done in 1965. The tekke's and the turbeh's still attracting many many visitors especially during Ramadan and Kandil nights is an indication to prove that people's respect and affection towards Merkez Efendi continue for centuries.
Zeytinburnu Municipality declared that the new restoration and arrangement works within the Zeytinburnu Municipality "Culture Island" project framework shall be given start around the Merkez Efendi and at its surroundings.
LOCATION SATELLITE MAP
These scripts and photographs are registered under © Copyright 2017, respected writers and photographers from the internet. All Rights Reserved.