Eminönü, Fatih - İstanbul - Turkey
GPS : 41°01'00.2"N 28°58'22.0"E / 41.016725, 28.972772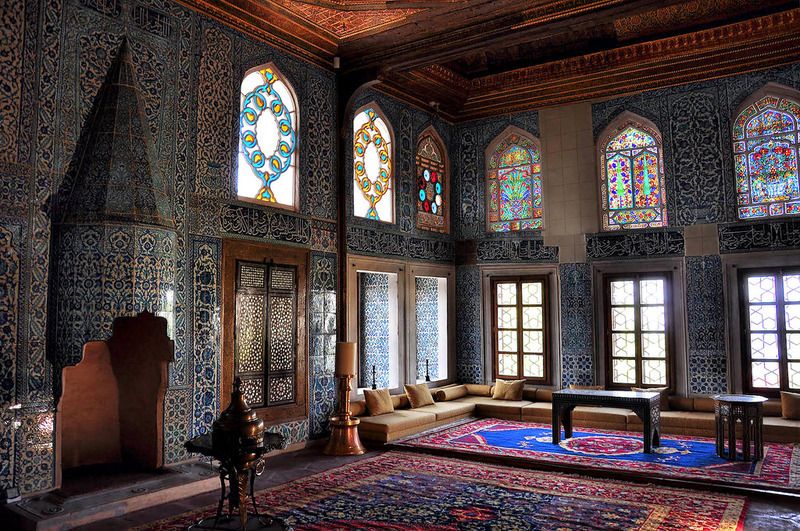 PHOTOGRAPHS ALBUM
The northeast corner of the gallery has a gilded screen, behind which members of the imperial court could attend services. This Royal Lodge is connected by a long elevated passageway to a Royal Pavilion in the northeast corner of the mosque complex. The pavilion, where Sultans rested before and after the pray and made ritual ablutions.
The kasır, or mansion, was attached to the mosque on the southeast side with an arch. Although it is known as the Hünkar Kasrı (The Sultan's Mansion), it was built as a place so the valide sultans who came to the mosque to pray were able to rest. Valide Turhan Sultans not only used it to rest, but during the month of Ramadan, she took up residence there.
The kasr is a suite of rooms accessed via a long sloping corridor where the sultan and his family could rest when visiting the mosque. The two large rooms and connecting corridors are almost entirely covered with İznik tiles (sadly, some had been stolen over the years before its restoration), while glorious stained glass fills the windows. The sloping corridor leading to the kasrı is currently hosting an exhibition of modern calligraphic art.
A small terrace overlooks the confluence of the Golden Horn and the Bosporus while a private entrance leads into the sultan's kiosk inside the mosque, enabling him to come and go in privacy.
The top floor of the kasır has two rooms covered with domes and tiles from floor to ceiling. Three of the five inscriptions in the tiles are from the Quran and two are part of a commemorative poem by Asimi. The lower floor had rooms for servants. There are fireplaces covered with tiles, ceilings made of carved wood and doors and windows decorated with mother-of-pearl. As for the main room (iwan), it leads directly to the sultan's lodge inside the mosque.
The Royal Pavilion in the mosque is the sole remaining example of classical Turkish architecture. Built on the remains of the Byzantine walls, there's a small tunnel that leads from Eminönü Square to Bahçekapı.
LOCATION SATELLITE MAP
These scripts and photographs are registered under © Copyright 2017, respected writers and photographers from the internet. All Rights Reserved.