Çırağan, Beşiktaş - İstanbul - Turkey
GPS : 41°02'44.6"N 29°01'05.0"E / 41.045722, 29.018056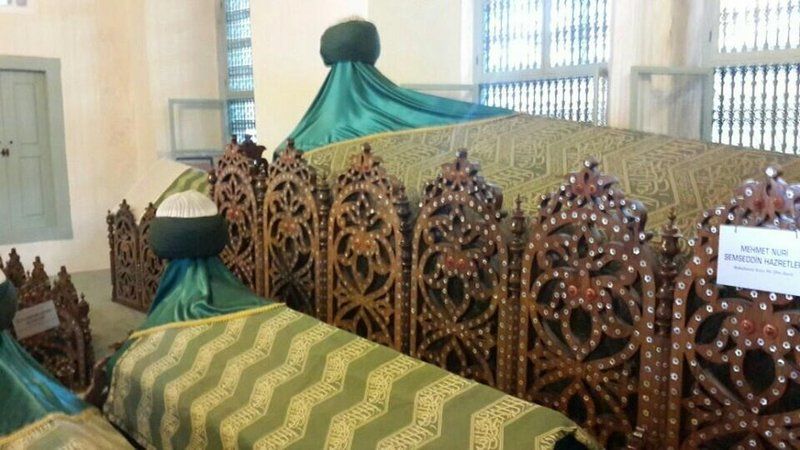 PHOTOGRAPHS ALBUM
Yahya Efendi shrine and its cemetery are always busy with the crowded people who are looking for right answers for their problems. Circumcised children, pregnant ladies, unmaried girls, unemployed people and so on come to Yahya Efendi shrine, tell their difficulties or problems to his sarcopgahus silenlty, pray to him in the name of Allah and ask for help then they leave with a great respect and wait the result. If their fresults come true, they come again and thank to him by praying and deliver some presents to the vistors and poor around the shrine.
It has been going on since Yahya Effendi was buried here. Yahya Effendi was one of the famous scholars of 16th century AD and he was the milk brother of famous Kanuni Sultan Süleyman. Yahya Efendi was born in Trabzon of Black Sea region in 1495 at the same time when prince Süleyman was born. Yahya Effendi and prince Süleyman were breastfed by Yahya Efendi's mother so they became milk brothers were brough up together.
When prince Süleyman became the 10th of Ottoman empire, Yahya efendi came to Istanbul and became a famous scholar. He worked as the university dean for a long time and he was the close friend and advisor of the sultan. Before he got retired, he bought a large piece of land in Beşiktaş and established his lodge as a big complex then he began training the inhabitants of Istanbul and helping to the fishermen and poor people.
Thousands of people had attended his funeral and his lovers wanted to be buried in this cemetery to be closer to him. Therefore a big cemetery around his tomb has been arisen for centuries. The members of Ottoman dynasty, high bureaucrats such as grand viziers, state governors, sheikhs-el Islam, university teachers, tutors, soldiers, judges and so on have been buried in their shrines and in this cemetery.
It has been restored several times because of great fires and earthquakes. During the reign of Sultan Abdülhamit II, it was restored with some buildings and a big shrine in the courtyard where Ottoman female members-sultans- and princes were buried. The library and the fountain were also restored in late 19th century and after the republic handmade books were sent to Süleymaniye library to be kept there.
When he died in 1571 AD, Ottoman Sultan Selim II ordered architect Sinan to build a domed shrine for him and he was buried in his shrine later. Yahya Efendi has a big shrine in the middle of the cemetery where he was buried with his wife and his children. The shrine has a charming entrance with a fountain built by Sultan Abdülhamit II and before entering his shrine his lodge members gravestones are located on both sides with a nice calligraphy on.
His sarcophagus is located in the center seperated with ivory cage surronding with his family members coffins. On the left hand side of his shrine, Güzelce Ali Paşa-Handsome Ali Pasha's shrine is situated and six marvelous marble sarcophagus with wonderful gravestones can be visited inside overlooking the Bosphorus bridge. Güzelce Ali Pasha was one of the famous Ottoman grandviziers in 18th century who was the lover of Yahya Effendi.
Yahya Efffendi cemetery has more than 2500 unique and ordinary Ottoman gravestones. Sect masters' gravestones such as Rufai, Kadiri, Mawlavi, Nakshibendi and Baktashi with their sect headgears, sailor formed gravestones of late Ottoman fleet captains, female gravestones with flowers and traditional symbols, the gravestones which Ottoman coat of arms were carved on and the gravestones with Fes headgears are worth seeinf after the visit of Yahya Effendi shrine. At the right hand side of the entrance, there is a big shrine where late 19th and early 20th Ottoman dynasty members Şehzades, Sultans were buried aslo can be seen.
Except the windows on the eastern and western sides, the windows have been changed during the repairs and lost their authenticity. Other known restoration works have been in progress during Sultan Mahmut II (1808-1839) and Sultan Abdülhamit II (1876-1909). The carving inside the tomb are originally kept. Actually, there are also carvings of the 19th century on the walls.
The tomb is still one of the attraction places for people, although it has lost many of its properties during the restorations that took place during centuries. By the time, the tomb's environment has been surrounded by other timber structures of the dervish lodge and the main masonry dome was converted into another timber frame, squat dome during the repair progresses held by Pertevniyal Valide Sultan.
It is located within the Dervish Lodge established by Yahya Efendi in 1538. It has lost most of its original features due to numerous repair and restoration work over the centuries; however, it still attracts visitors' attention with its surrounding buildings and the landscape of its burial area. Also built there were a small mosque, a mansion, a school, cells, a hamam and a fountain beside the road.
Yahya Effendi Madrasa was located on a wide area in Sheik Yahya Effendi Dervish Lodge. The construction of madrasa started with small mosque, Turkish bath and fountain in 1538. New constructions were added to it in 18th century. In 19th century a large part of land of madrasa remained in the garden of Yıldız Palace and Çıragan Palace. That the name of this madrasa was not encountered in the list of madrasahs made in 1869 shows that it was pulled down before this date.
LOCATION SATELLITE MAP
These scripts and photographs are registered under © Copyright 2017, respected writers and photographers from the internet. All Rights Reserved.