Silivrikapı, Fatih - Istanbul - Turkey
GPS : 41°00'26.5"N 28°55'19.3"E / 41.007365, 28.922028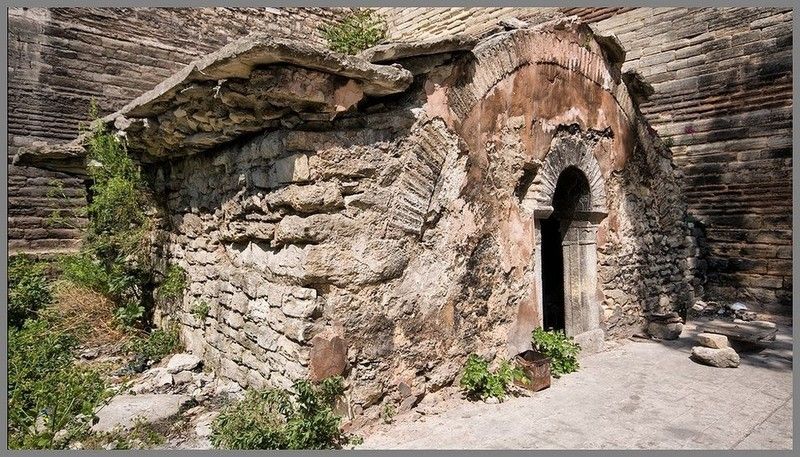 PHOTOGRAPHS ALBUM
To the left of the Silivrikapı Walls in Istanbul's Fatih neighborhood, there lies a hipoje from the fourth century A.D., which is now in ruins. Known as the Silivri Crypt, the tomb, which has been suffering since its discovery in 1988.
It is estimated that the Silivri Crypt, which was found by Turkish Professor Ümit Serdaroğlu, dates back to the fourth century A.D. at the time of the eastern Roman Emperor Theodosius. The tomb was restored in 1989 by the Municipality of Istanbul but it was soon looted.
The reliefs covering the crypt were stolen in 1993, however they were rediscovered and given to the Istanbul Museum of Archaeology. The frescoes which were also restored, were damaged over time.
Theodosius died, after suffering from a disease involving severe edema, in Milan on 17 January 395. Ambrose organized and managed Theodosius' lying in state in Milan. Ambrose delivered a panegyric titled De Obitu Theodosii before Stilicho and Honorius in which Ambrose praised the suppression of paganism by Theodosius. Theodosius was finally buried in Constantinople on 8 November 395.
Theodosius's army rapidly dissolved after his death, with Gothic contingents raiding as far as Constantinople. As his heir in the East he left Arcadius, who was about eighteen years old, and in the West Honorius, who was ten.
Neither ever showed any sign of fitness to rule, and their reigns were marked by a series of disasters. As their guardians Theodosius left Stilicho, who ruled in the name of Honorius in the Western Empire, and Flavius Rufinus who was the actual power behind the throne in the East.
LOCATION SATELLITE MAP
These scripts and photographs are registered under © Copyright 2017, respected writers and photographers from the internet. All Rights Reserved.