Silahtarağa, Eyüp - İstanbul - Turkey
GPS : 41°03'42.6"N 28°56'34.6"E / 41.061833, 28.942944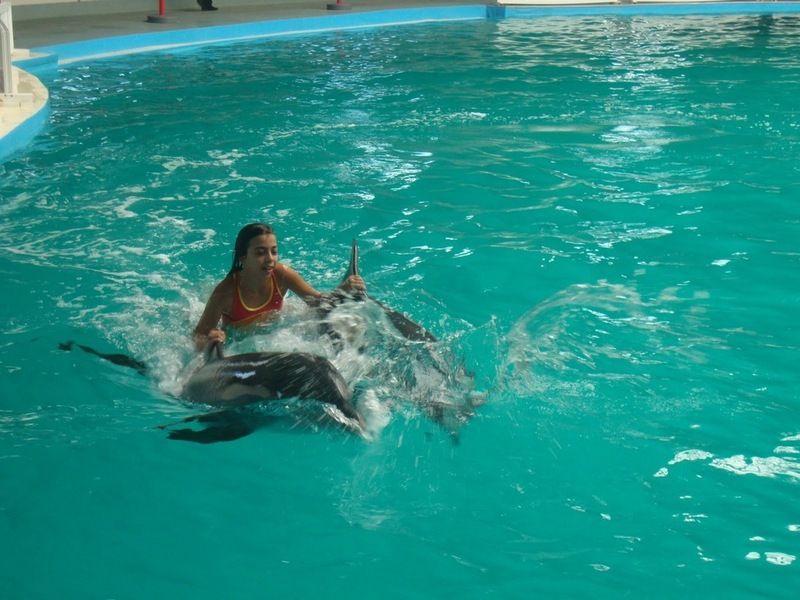 PHOTOGRAPHS ALBUM
Istanbul Dolphinarium presents you a unique chance to explore the fascinating world of sea mammals. Here, by taking a closer look at these magnificent creatures, you will get to know them better and realize the importance of these species in our world's Nature. Dolphins, Walruses, Seals and a Whale... All charming and clever... And all are waiting for you...
You will definitely leave the Dolphinarium with unforgettable memories: the stars of our show impress the guests with their talents and wit, and allow for everyone to see how close we are with them. In the merry atmosphere of the show you will also learn interesting scientific facts about sea mammals. At Istanbul Dolphinarium you can also take the pictures together with our swimming artists after the end of the show. Alternatively, you can swim with the dolphins in order to get rid of daily stress and fill with their positive energy.
Istanbul Dolphinarium, being the largest indoor dolphinarium in Europe, has opened its doors to public at the end of 2008. Istanbul Dolphinarium is a joint project between Turkish Republic and Russian Federation and takes an important role in improving cultural and social relations between the two countries. The opening ceremony of Istanbul dolphinarium was attended by Mayor of Istanbul, 1st vice-president of International Affairs Committee of RF Parliament, CEO of Utrij Dolphinarium and many other state authorities, businessmen, students and Istanbul residents.
Istanbul Dolphinarium complex was built on the area of 8.695 m2, out of which 5.800 m2 is an indoor space. The pool system filled with sea water and consisting of 7 interconnected pools has volume of 3.100 m3 in total. The main show pool has radius of 16,5 m and depth of 5 m. The show amphitheatre has 950 seats, including 64-seat VIP tribune. Please see "Our Services" page of this site for detailed account of activities we have to suggest to our guests.
At Dolphinarium's cafeteria, you can spend some joyful moments with your family and friends over a cup of coffee or enjoy our tasty snacks. There are the group menus available at the cafeteria for special occasions such as birthday celebrations, business meetings or cocktails. Also, there is a parking area for approximately 120 vehicles available for our guests Free Of Charge.
The charming and clever stars of our show programs will grant you some of the merriest moments. Our show programs last for approximately 1 hour each. If you wish you can eternalize you pleasant memories at Dolphinarium by applying to our professional photographer to take pictures with the stars of the show.
Dolphin Assisted Therapy (DAT) is a kind of alternative support treatment for children with various disorders. Scientific studies have established that DAT shows positive effects mostly for 3-16 years old age group. At Istanbul Dolphinarium DAT is executed under supervision of professional trainer and psychological counselor / DAT specialist in the form of individual sessions.
Dolphin Assisted Therapy (DAT) is a supportive alternative therapy mostly effective for children 3 - 16 years old. Scientific studies have shown that DAT is beneficial for children with following disorders:
- Pervasive Development Disorders (PDD): Autism, PDD-NOS, Asperger Syndrome
- Down Syndrome
- Posttraumatic Stress Disorder (a disorder developed in children which were subjected to various psychological traumas, such as loss of the care-givers, sexual abuse, violence, and the like)
- Speaking difficulties
- Chronic Fatigue Syndrome
- Attention Deficiency & Hyperactivity Disorder
- Cerebral Palsy / Spasticity
- Involuntary movements and spasms
There are few contradictions (in terms of safety and health issues) for participating in DAT. These contradictions are as follows:
- The presence or history of epilepsy
- Contagious diseases
- The presence of any health problems which could be negatively effected by swimming in the water of 24-26 C temperature.
At Istanbul Dolphinarium DAT is run under supervision of professional dolphin trainer, DAT therapist / psychological counselor. The therapy course is designed individually for each child. In order to achieve optimum effects and to fix them, the specialists recommend a 10-session course to start with. However, the number of sessions may be increased or decreased in accordance with child's response to the therapy.
DAT can bring out both physiological and psychological positive effects. So in a way it can be regarded both as physical therapy and psychotherapy.
Physiological effects of DAT can be summarized as follows:
Ultra-sonic effect: According to scientific researches, the sound of high frequency which is produced by dolphins' communication device called "sonar" triggers a healing bodily response in patients who participate in DAT. This response was called "sonophoresis". It was established that sonophoresis produces a pain-killer effect (especially in CP patients), and also stabilizes the frequency of alpha-waves (electro-magnetic waves produced by human brain). The latter effect increases production of endorphins, and endorphins are responsible for improving immune system, learning skills, memory and sleeping patterns.
Reflexology effect: By touching bio-active areas located on patient's hands and feet which are associated with different parts of human body the dolphin stimulates nervous system and causes healing effect in the problem areas. Electro-magnetic effect: It was suggested by the researches that the low-frequency electro-magnetic waves produced by the dolphin positively stimulates human pineal gland.
This stimulation naturally increases the concentration of ACTH molecules in the brain. The scientific studies have shown that an external supply of synthetic ACTH improves social communication in autistic children. ACTH also contributes to regeneration of neurons, which, together with increase in endorphin production mentioned above, stimulate the development of child's judgment and communication skills.
Acoustic vibration and hydro-massage effect: the sounds the dolphin produces (those that are within the range of hearing and ultrasonic) create acoustic vibration in the water; and this vibration speeds up the circulation of blood as well as of lymph. This in turn provides a better feeding to all cells of human body and triggers their development. When directed to the body of a child, the water waves that are created by dolphin's tail and flippers have a hydro-massage effect.
In addition to physiological effects mentioned above, DAT has strong psychotherapeutic effect. This effect is brought out by child's direct interaction with the dolphin in a series of play exercises.
The positive developments associated with DAT in psychological realm can be summarized as follows:
Emotional development: Due to dolphin's inborn curiosity and friendly approach the communication between the animal and child is built very easily. The positive nature of such communication helps the child to develop emotionally. Cognitive development: the special exercises which are done in form of play together with the dolphin are designed to enhance the child's learning skills and concentration; they help the child to focus on task accomplishment.
Adjustment and positive behavior development: for each child the therapy program is developed in accordance with individual needs and priorities, and is supervised by psychological counselor. Dolphin's positive approach adds the rewarding component to professionally developed exercises program, so that the child's positive behavior and adjustment to DAT's routines is naturally encouraged.
Self-confidence development: With dolphin's support the child accomplish various tasks during DAT sessions, and by observing the successful result, the child develops the sense of self-confidence.
Swimming With Dolphins
Apart from enjoying the show program the guests of Istanbul Dolphinarium have a unique chance to swim with the dolphins. This wonderful experience will relieve you from daily stress and give you a positive energy. Our indoor pool with the sea water is heated during winter months, so you can swim with the dolphins all year around. The swimming sessions are carried out under the supervision of professional dolphin trainers. To swim with the dolphins one should be over 6 years old and able to swim. Also, during the swimming sessions it is forbidden to wear any jewelry (watches, rings, ear-rings, hairpins, etc.) and to use any swimming facilitating equipment, such as arm cuffs and life buoys.
Swimming with dolphins at Istanbul Dolphinarium will easily relieve you from daily stress and worries. Touching and hugging the dolphin is definitely giving a person a charge of positive energy. Our indoor pool with the sea water is heated during winter months, so you can swim with the dolphins all year around.
To swim with the dolphins one should:
- Know and be able to swim
- Be over 10 years old in winter months and over 6 years old in summertime
- Not wear any jewelry or accessories
Diving With Dolphins
Scuba divers often say that each dive brings them the feeling of rejuvenation and instauration. To dive is to escape from the turmoil of everyday life and to discover the amazing underwater world. To encounter a dolphin or a whale while diving in the natural settings is an extremely rare experience for the most of the divers. However, at Istanbul Dolphinarium diving pool it is possible to observe dolphins and whale during diving sessions, to swim with them and to share their world. The divers with a corresponding certificate can enjoy one-time diving sessions; those who wish to learn to dive can enroll to our diving course.
A person might get slightly anxious before entering our diving pool. However, as you get into the water, you will immediately feel that there is no need for any worry, because the dolphins Prince, Princess, Matilda and Gera, together with the beluga whale named Sea-farer, are exceptionally welcoming hosts. They will cheerfully meet and greet you underwater as you enter the pool. They will swim around you with grace and dynamism as if encouraging you to do the same. Shortly after you get acquainted, they will start to show you their natural playfulness. They will demonstrate their "back glide" swimming technique, and approach you with "stroke me!" look in their eyes, and eliminate any possible doubt about their friendliness. Under water you will be able to here the sounds they make, and that will bring you peace. There is a number of physiological and psychological benefits of communication between the dolphins and human beings.
If you do not have any diving certificate :
Scuba Diving Course at Istanbul Dolphinarium...
General requirements: A person, who would like to participate at our diving course, should be minimum 15 years old, know how to swim and not have any health problems.
Scuba diving course is a beginner level of PADI Open Sea Diving Course program. It aims those who have time restrictions and is given in groups under supervision of experienced trainer. PADI Scuba Diving Course consists of 3 parts ;
1A – Independent Study & General Knowledge Gaining: First, the attendants of the course are given the original PADI studying book and are requested to read at home the first 3 chapters and do the tests that are found in the end of each chapter. Then, the participants should take an appointment from the trainer and submit the finished tests for his/her evaluation. If their test scores are sufficient, they are allowed to proceed to the next step – the pool lessons. Independent studying (i.e. studying on your own) has become popular due to several important educational and logistic advantages.
1B – Theory Lessons with the Trainer: The participants are required to attend 8 hours of classroom diving theory lessons with PADI trainer. The tests are given during the classroom lessons, and if the results are satisfactory, the participants are allowed to the stage of pool lessons.
2 – Pool Lessons: These lessons aim learning the basic practical skills in the calm environment by the pool. The pool lessons are giving the important chance to put into practice the theoretic knowledge the participants gained during independent studies and classroom lessons. Under the supervision of PADI training they will learn to assemble the diving unit (mask discharge, regulator cleaning, sharing air resources and the like).
3 – Open Sea Diving: After 2 dives at the Dolphinarium's largest pool, the students are ready to receive PADI Controlled Environment Diving Certificate. Congratulations! To complete the course program, the participants have to do 2 open sea dives with maximum depth limit of 12 meters (it is not recommended to pass this depth limit for the assisted dives). When the students reach open sea dive level, they can accomplish PADI Scuba Diving course by diving in the open sea at any time and location they prefer and receive their full PADI certificate
Diving course fee includes: Original PADI Independent Study Book, 3 pool lessons (one at the small and two at the large pool), diving register notebook approved by Turkish Underwater Sports Federation, PADI Controlled Environment Diving Certificate.
When you are finished with diving and leave the pool the dolphins and beluga will look at you with a "come again" expression. So do not waste your time and give yourself a chance to get away from noisy and stressful city life into the tranquility of the underwater personal space created by diving.
Special & Corporate Events
Apart from leisure, education, and therapy purposes, Istanbul Dolphinarium can serve its guests as a perfect venue for special events. With its vast indoor space, charming garden and special atmosphere, Dolphinarium is ready to host any kind of private function: from birthday parties to corporate meetings. While planning your event, you can consider organizing private show for your associates as well as swimming sessions to add an unforgettable component to your celebration.
Dolphinarium Cafe
Relax with your family and friends at Dolphinarium Café! Our café, located at Istanbul Dolphinarium's ground floor, has 60 pax indoor and 60 pax outdoor capacities. It is perfectly suited for enjoying some quality time together with your family and friends before or after the shows. Besides, Dolphinarium Café is available for all sorts of private and corporate organizations such as birthdays, celebrations and company meals. There are special discounted menus for school and corporate groups. For birthday celebrations we can arrange animators and special decoration.
LOCATION SATELLITE MAP
WEB SITE :
Istanbul Dolphinarium
MORE INFO & CONTACT
E-Mail :
info@istanbuldolphinarium.com
Phone : +90 212 581 7878
Fax : +90 212 545 9945
These scripts and photographs are registered under © Copyright 2017, respected writers and photographers from the internet. All Rights Reserved.