Beyazit, Fatih - İstanbul - Turkey
GPS : 41°00'31.7"N 28°57'46.5"E / 41.008806, 28.962917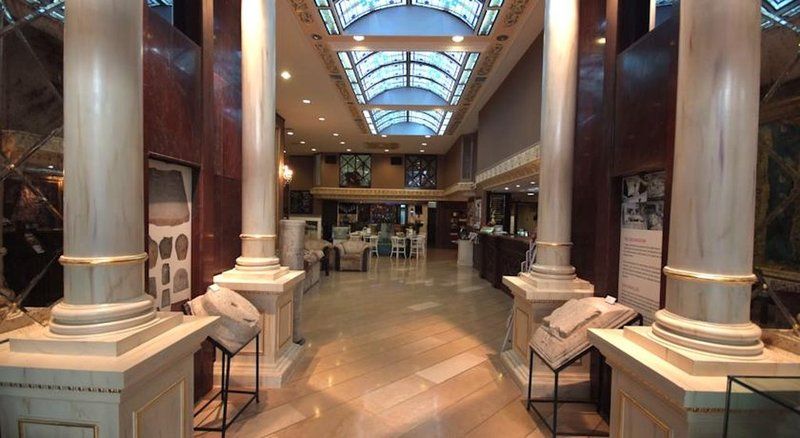 PHOTOGRAPHS ALBUM
In 1984, during the foundation diggings of Antik Hotel, historical ruins have been found around 12 meters deep. Construction stopped immediately and a new digging started to save the ruins. Studies have been made by historians and experts of the istanbul Archaeological Museum. The results stated that the ruins were from Late Rome and Early Bizantines, further studies showed that it was the ruins of a "Cistern".
After this discovery construction plans have been changed my engineers in order to build Antik Cisterna in such a way that kept the historical ruins untouched in the heart of Istanbul. All historical remains are displayed in the entrance of Antik Hotel.
According to the historians; During the 5th and 6th centuries, there were very important buildings that stood on the Mese Road (Divan Road) which starts from Hagia Sophia to Çemberlitaş, and pasing through Beyazıt to Aksaray. Antiochos and Lausos Palaces in Sultanahmet and Myrelaion Palace in Laleli are some examples to these buildings. Antik Cisterna is also one of these buildings from 4th and 5th century.
Another Ottoman era structure had been built over the original cistern. Following restoration work, the historical cistern was brought back to life and transformed into the Antik Cisterna a facility that combines culture, art and history. The City of Istanbul has got many names in the past centuries and nowadays: Byzantion, Constantinopolis, Constantinople, Estambul, Stamboul, Islambol.
ANTİK HOTEL 4*
Consept & Floor Details
Floor 4 - Istanbul Floor
This floor represents ''Istanbul'' period, the latest civilization that still continues in the 21th century. This floor carries small details of Istanbul and new Turkish Republic and is dedicated to Atatürk, the founder and the first president of the Turkish Republic. He drew new routes for his country with his sweeping reforms in legal system, social status of women, introduction of the Latin alphabet and the educational policy.
Floor 3 - Konstantiniyye Floor
This floor represents ''Konstantiniyye'' period, a 700 years old civilization: the Ottoman Empire. This floor carries small details of the Ottoman period and is dedicated to the 7th sultan, Fatih Mehmet. He conquered the city of Constantinople in 1453 and was given the title of ''The Conqueror''. He was not only a great commander but also a great poet.
Floor 2 - Constantinopolis Floor
This floor represents "Constantinopolis" period of the Roman Empire. This floor carries small details of the Roman period in Istanbul and is dedicated to Constantinius I. He re-established the city as the capital of the Empire so the city was named after him. He was the first Roman Emperor to accept Christianity and the founder of Haghia Irene and Holy Apostles churches.
Floor 1 - Byzantion Floor
This floor represents "Byzantion" period in Istanbul. This first floor of the hotel carries small details of Byzantion period and is dedicated to Byzas. He and the Greek colonists led by him, established the city. The legend is that Delphic Oracle, advised Byzas to settle across the land of the blinds. Byzas chose Seraglio Point (Sarayburnu) across Chalcedeon (Kadıköy) whose inhabitants he considered to be blind to have missed such a favourable location
ACCOMMODATION
Standard Rooms, Family Rooms, Istanbul Suite, Junior Suite, Marmara Suite, Disabled Room
FOOD AND BEVERAGE
Marmarion Terace Restaurant
Marmarion Terace Restaurant offers assortments of Turkish and the World cuisine accompanied by a view of the Marmara Sea, Prince's Islands, Beyazit Tower, minarets of the Blue Mosque, old and new Istanbul. Delicatessen assortments, salads accompanied by special sauces, snacks, daily menu, open buffet or a-la carte options are prepared by our experienced cooks, our genial service is waiting for a blissful break. If you like fish, you can prefer the Byzantine Menu; if you like traditional food, ask for an Ottoman Menu; if you insist on mixed, you can have the Istanbul menu.
Antik Cisterna Restaurant
Our Marmarion Terace Restaurant consisting of two sections - one being for 200 and the other for 50 people - offers the assortments of Turkish and the World cuisine. Named after the water backs and columns dating back to the late Roman and early Byzantine period have been restored remaining faithful to its historical original and is at your service as one of the most distinguished hot spots of Istanbul.
Antik Cisterna Exhibition Hall is included among places housing Istanbul's art world. The hall, in which works of photographers, painters and sculptures are displayed, is an ideal place for special occasions and receptions. We are looking forward to see you for a comfortable break by the historical divan road.
Not only a restaurant and hotel but Antik Cisterna can also serve as exhibition center-gallery which brings the past to us. Antik Cisterna is a meeting point for art-history and tourism with it's mystic atmosphere and it can be an alternative for concerts,parties,promotions and presentations.
SAUNA AND MASSAGE
Our sauna and massage service is ready to serve you with its expert personnel for guests willing to spend some time and relieve their tiredness at Antik Hote'l. You can sweat off in our sauna and feel yourself renewed and refreshed with the massage to be applied by our expert personnel afterwards. You can choose one of body massage, food & leg massage, head and neck massage for as long as you like.
MEETING AND BANQUET
You can carry out many organizations such as congresses, meetings, seminars, parties, wedding ceremonies, graduation ceremonies, exhibitions, receptions, launches etc.
LOCATION SATELLITE MAP
WEB SITE :
Antik Hotel
MORE INFO & CONTACT
E-Mail
:
info@antikhotel.com
/
info@antikcisterna.com
Phone : +90 212 638 5858
Fax : +90 212 638 5865
These scripts and photographs are registered under © Copyright 2017, respected writers and photographers from the internet. All Rights Reserved.