Merkezefendi, Zeytinburnu - İstanbul - Turkey
GPS : 41°00'31.7"N 28°54'59.0"E / 41.008806, 28.916389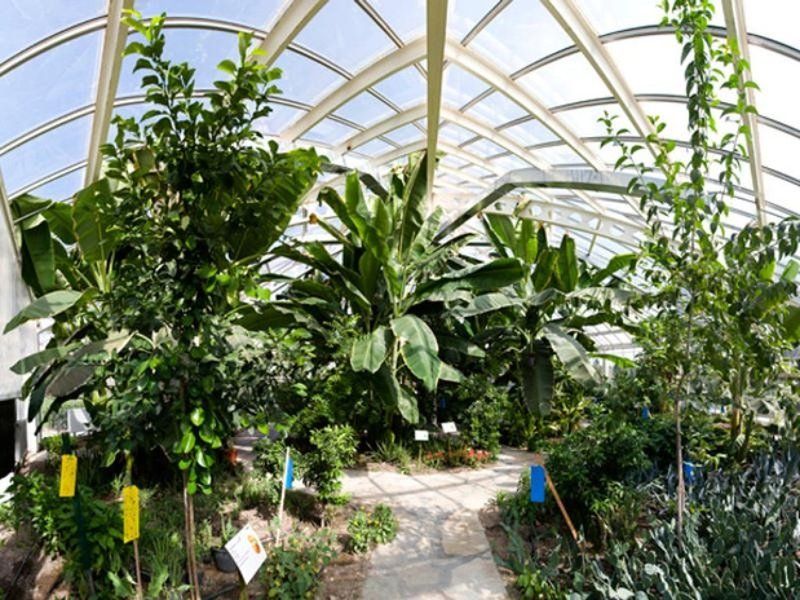 PHOTOGRAPHS ALBUM
The first medicinal plants garden is Zeytinburnu Garden of Medicinal Plants in Turkey exhibits over 700 plants grown without chemical additives. The garden also has greenhouses, a herbarium as well as a sundial. You can even do some volunteer gardening - a Zen activity if there ever was one.
Zeytinburnu Garden of Medicinal Plants has been established on an area of 14,000 square-meters. It is the only medicinal plants garden of Turkey. The current project is carried out by the Municipality of Zeytinburnu together with Merkezefendi Geleneksel Tip Derneği (Merkezefendi Traditional Medical Association).
It pursues objectives such as medicinal plants research, produce and introduce, to contribute to the maintenance and improvement of plant diversity, to provide work space and materials for training programs, to encourage efficient and safe use of medicinal plants, to provide a ground for the studies to benefit from medical flora. In the garden the number of cultivated and labelled medicinal plants exceeds 600.
There, plant wastes are utilized as natural fertilizer, and synthetic fertilizers and drugs are avoided. Drip and sprinkler methods are used in order to prevent waste of water. The number of medicinal herb gardens throughout the world is very few when compared with the number of botanical gardens. However, the indigenous plant market has been growing, and in parallel with that, there has been a growing interest in society in the benefits of traditional medicine - including the use medicinal plants.
These plants are widely used in many parts of the world. Herbs have been used to treat illness and disease for thousands of years. In many cases, modern science has verified the healing powers of these plants. The Zeytinburnu Medicinal Plant Garden offers people the opportunity to understand the ecosystem and enables them to make substantial contributions to the protection of Turkey's flora and the cultivation of medicinal plants in Turkey.
The Zeytinburnu Medicinal Plant Garden, opened in 2005, is Turkey's first and only medicinal plant garden. It is located in the Merkezefendi neighborhood in İstanbul's Zeytinburnu district. It is no coincidence that the garden is located in Merkezefendi. Merkez Efendi, who was the director of the Darüşşifa (hospital) during the reign of Sultan Süleyman the Magnificent, became famous due to his mesir macunu (a spicy paste made using 41 different herbs which is supposed to restore health, youth and potency) and for helping Sultan Süleyman the Magnificent's mother, Ayşe Hafsa Sultan, recover from a terrible illness using this paste.
The garden is situated on 3.5 acres of land. Although it is located in the city center, people who enter this verdant garden get the feeling that they have been transported outside the city. In the garden, which was established by the Zeytinburnu Municipality together with the Merkezefendi Traditional Medicine Society, over 600 herb species are identified and labeled. There is a greenhouse, a herbarium, a seed collection, a plant laboratory and an area where plants are dried in the garden.
The medicinal and aromatic plant technician in charge of the Zeytinburnu Medicinal Plant Garden, says the garden's aims are to search for and grow medicinal plants, facilitate the efficient and correct use of such plants, contribute to the protection and development of biodiversity, supply materials for training programs, support agricultural specialization, exchange information and plants with botanical gardens and seed banks in Turkey and abroad and make use of the potential benefits of medicinal flora.
In addition to plant technician, there are four specialists including a biologist, an agricultural engineer, an environmental engineer and a health specialist working for the Zeytinburnu Medicinal Plant Garden. The Zeytinburnu Medicinal Plant Garden not only shows plants to visitors, but people can also receive scientific instruction in how to use and cultivate them. There is also a Health Research Center in the garden. The garden has made great progress in its collection of indigenous seeds.
The garden's seed bank contains 100 out of the 300 indigenous medicinal plants found in Turkey which have been confirmed by the World Health Organization's (WHO) clinical trials. The center's vision is to pioneer interdisciplinary studies in order to provide medical solutions to problems and make use of Turkey's local plant resources and heritage. It is also a reference center with its library, periodicals, seminars and workshops. Students interested in medicinal plants are taught about the latest scientific developments and discoveries and told about how vulnerable some plants are.
Those who are interested in medicinal plants can participate in the "Home Medicine" seminars given by professors from different universities in the fields of phytotherapy, natural body care, aromatherapy and natural nourishment. People can also learn about the proper use of plants through practical studies in the garden's workshops in areas such as tincture preparation, natural cosmetics and natural color dying with the help of specialists. Ethnobotanical expeditions are also being organized to discover new medicinal plants in various areas of Turkey.
One of the most intriguing activities of the Zeytinburnu Medicinal Plant Garden is the Creepy Crawly in Every Nook and Cranny (KöşeBucakBörtüBöcek) Ecology Summer School for children. Children have the opportunity to become closely acquainted with nature in this two-week program. They watch documentaries and movies about nature, take photos and cultivate plants. There are several animals there, such as cats, rabbits, turtles and ducks, enabling the children to observe nature holistically.
In addition to the garden's medical periodicals, there is also an amusing and instructive children's book that shares the summer school's name and teaches children about plants. In this book composed of fables, a little girl named Flower sets out on a journey into the world of medicinal plants with her friend Dragonfly after finding a notebook in her grandmother's wooden chest. Throughout the journey, medicinal plants such as basswood, echinacea, basil, hibiscus and Nigella sativa are introduced to the children.
Valeriana officinalis, valerian
It is known for its tranquilizing, anti-anxiety, sedative and relaxing effects and is often recommended in the treatment of coronary diseases, nervousness, hysteria, irregular menstruation and insomnia. It should be used daily for a maximum of 14 days.
Echinacea, the purple coneflower
Its roots, leaves and flowers are all used in curative medicine, but its roots are the most effective part. It has traditionally been used to stimulate the immune system. It also helps prevent upper respiratory tract infections. It should not be used for longer than eight weeks because of its side effects. People who have an allergy to chamomile and other members of the daisy family should avoid using echinacea.
Tanacetum parthenium, feverfew
Its leaves are used most often. The herb is well known for the prophylactic treatment of migraines. It is used also in the treatment of rheumatic ailments. It can be used for four to six months.
LOCATION SATELLITE MAP
WEB SITE :
Medicinal Plants Garden
MORE INFO & CONTACT
E-Mail :
bilgi@ztbb.org
Phone : +90 212 664 4155
Fax : +90 212 416 4576
These scripts and photographs are registered under © Copyright 2017, respected writers and photographers from the internet. All Rights Reserved.