Şişhane, Beyoğlu - İstanbul - Turkey
GPS : 41°01'42.0"N 28°58'18.9"E / 41.028333, 28.971917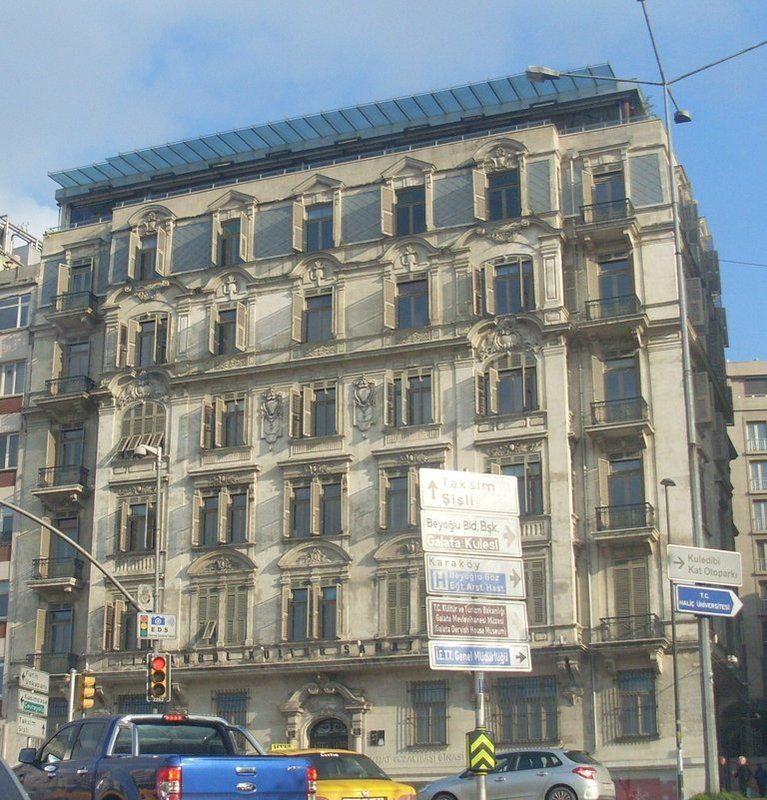 PHOTOGRAPHS ALBUM
It was designed in the 1920s by Yorgo Kulutros and is embellished with Art Nouveau features. UNTIL only recently, the 90-year-old Deniz Palas in Istanbul's Şişhane neighborhood was a perfect symbol of the city's faded glory. Originally a grand apartment building that catered to the area's once large Greek-speaking community, the edifice - and the surrounding neighborhood - slowly slid into a state of decay over the decades, as political and economic turbulence drove the area's original residents away.
Now, though, the building symbolizes nothing less than the city's cultural resurgence. It was built in Art Nouveau style by architect Georges Coulouthros at the beginning of the 20th century.
IKSV - NEJAT ECZACIBAŞI BİNASI
2009 marked a turning point in İKSV's history as the headquarters moved to Deniz Palas, in Şişhane. Titled Nejat Eczacıbaşı Building as of 2011. Istanbul Foundation for Culture and Arts (IKSV) moved to historical building in Şişhane, Deniz Palas. Deniz Palas now houses İKSV, which has been enriching the cultural and artistic life of İstanbul with festivals, events and leading organizations for several years.
Deniz Palas Apartment, spanned in seven floors at an are of 4200 sq.mt. is a meeting place for art lovers, in addition to the offices of the foundation as well as a cafe, a restaurant, the performance venue Salon and İKSV Design Store.
The IKSV Design Shop, displaying very special gifts and Peralı Café are located on the main floor. "Salon", the new performance center, is located at the entrance and the first floors and is designed to host classical, jazz, rock, alternative and world music concerts, theater and dance performances, activities for children, panels and conferences. It has a capacity of 250 people seated and 600 standing.
The fifth floor of Deniz Palas is going to host a museum dedicated to famous soprano Leyla Gencer, as of March 2010. Deniz Palas Restoran sited on the top floor and the terrace offers one of the most stunning views in Istanbul.
X Restaurant & Bar
X Restaurant & Bar is located on the top floor of the historical Deniz Palace. X restaurant & Bar is a pioneer with its unique style and atmosphere. Designed with acute attention to detail, the interiors showcase extraordinary architectural flair combined with formal and textural touches and acute and wide angles. The design reflects the contours and energy of Istanbul itself, with ceramics crafted by the İznik Education Institute, asymmetric tables and a triangular bar, as well as plates designed by İKSV Director General Görgün Taner and glasses selected from the Paşabahçe Special Series.
LOCATION SATELLITE MAP
WEB SITE :
İKSV - Nejat Eczacıbaşı Binası
MORE INFO & CONTACT
E-Mail
:
info@iksv.org
Phone : +90 212 334 0700
Fax : +90 212 334 0701
These scripts and photographs are registered under © Copyright 2017, respected writers and photographers from the internet. All Rights Reserved.