Laleli, Fatih - Istanbul - Turkey
GPS : 41°00'31.3"N 28°57'19.3"E / 41.008694, 28.955361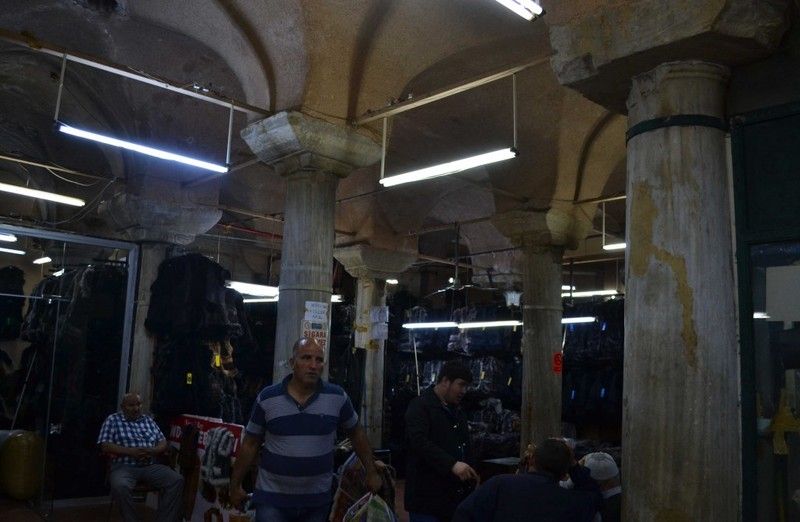 PHOTOGRAPHS ALBUM
Just a few meters before the entrance of the former monastery, my sight was attracted by a giant advertising panel that read "Myrelaion." With my curiosity aroused, I went over there and I saw an inconspicuous small entrance. Descending a few steps, I found myself in a huge circular space: the old rotunda, once the palace cistern. However, nowadays it accommodates a clothing bazaar.
This rotunda was built somewhere in the 5th century and the historians are yet unable to determine its initial function. It has a huge dome and an outer diameter of almost 42 meters, being the largest rotunda of Roman-Byzantine era. Only the Roman Pantheon had a larger dome.
During the rule of Emperor Romanos I Lekapenos (10th century) it suffered some alterations, caused by the future adjacent construction of Myrelaion Monastery. Adding 74 extra columns, the Emperor transformed the rotunda into one of the eight cisterns of Constantinople.
During the years of Ottoman yoke, this space wasn't used very differently than in our days. It accommodated fish markets, workshops, distilleries, steam baths and warehouses until early 1900s, when the site and the surrounding area became a dump.
The archaeologists begun to excavate this area in 1930s, and they brought to light the circular cistern and the palace of Emperor Romanos Lekapenos. Then, after several failed attempts of restoration and redevelopment of the space, in 1993 it became a bazaar.
The merchants assumed I was there for their leather coats, so they started to come around me, trying to lure me with their offers. At that moment I thought about the bad example given by those tourists who visit Constantinople just to buy fur, leather coats and such, neglecting or totally ignoring many other key aspects of the City.
As I left the cistern behind me and went up to the monastery, I thought that, after all, no matter how much the City would change, no matter how many new names it will acquire, no matter how many new buildings will be erected, no matter how many attempts will be made to keep into oblivion the marks of the "other" city - there will always be everywhere enough testimonies to resist this attempt of distortion.
LOCATION SATELLITE MAP
These scripts and photographs are registered under © Copyright 2017, respected writers and photographers from the internet. All Rights Reserved.