Şişhane, Beyoğlu - İstanbul - Turkey
GPS : 41°01'39.0"N 28°58'18.7"E / 41.027507, 28.971860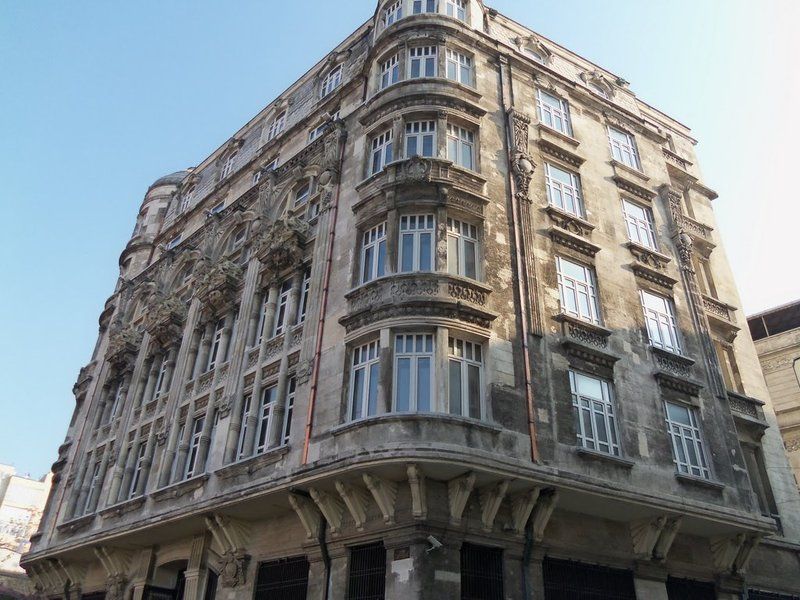 PHOTOGRAPHS ALBUM
Şishane Square where you will find the ornately carved Sarkuysan Building. It was built in 1906 for the Frej family by the Greek architect Konstantinos Kyriakidis (1881-1942) with an Art Nouveau facade and a French style mansard roof. Selim Hanna Freji whose family was a christian family from Beiruth let this glorious building build. Kyriakidis constructed and despite one can think that its embroideries are slushy he has done it very successfully that we can say it is quite impressive.
The bloodline of the family "Galvani" was preserved such a long time that it even witnessed the fall of the Byzantine and Istanbul's being occupied by Turks, first medieval times and later new era, the sailboats going out of date with the industrial revolution and steamships passing through the Bosporus for the first time. And they became one of the oldest families of Istanbul. They were so rich that a word "kallavi" symbolizing wealth came in to Turkish from their last name. This family had a legendarily beautiful girl: "Polin".
Polin fell in love with a Christian man whose father was Lebanese and mother was American. This man "Selim Hanna Frej" was the one known with his fame, glory, wealth and luxury addict. After the marriage between them, three children came into the world: Jan, Alfred and Anjel. And of course their gorgeous apartment Frej located right in the center of Şişhane was very dear to the couple.
What about the tale of it; the fame of the Frej Apartment, from one point of view is a tragic tale of Anjel. We don't have any information about the sons but the apartment was inherited by the daughter Anjel who later married with Feridun Dirimtekin who is famous for his good-looks, and having captured the Greek general "Nikolaos Trikoupis" during the Battle of Dumlupınar. After the marriage Anjel's name was changed to "Aysel" which is a Turkish name. Mr. Dirimtekin is an intellectual person and Istanbul lover.
Mr. Dirimtekin known for his books about the historical artifacts of Istanbul, his works on city walls of Istanbul, his being the manager of the Hagia Sophia Museum, his frock coats and Mrs Dirimtekin (Aysel) known for her belly laughs, her beautiful clothes, distinctive hats she wears on; sold their building to the "Sarkuysans" when they reached to the retirement age. The cost of the building worhs 25 million dollars according to monetary value today. Frej Apartment was turned into "Sarkuysan Commercial Building" and the Dirimtekins moved to Nişantaşı.
Soon after that Mr Dirimtekin fell into a street hole and lost his life during the treatment process because of the old age. Mrs Dirimtekin who was the most pompous woman for a time period, was first sent to hospital later to eventide home with a certificate of insanity by her inheritors. After she lost all her fortune, she died just like her husband.
LOCATION SATELLITE MAP
These scripts and photographs are registered under © Copyright 2017, respected writers and photographers from the internet. All Rights Reserved.