ANADOLUHISARI MUSEUM
Anadoluhisarı, Beykoz - Istanbul - Turkey
GPS : 41°04'55.8"N 29°04'01.4"E / 41.082174, 29.067052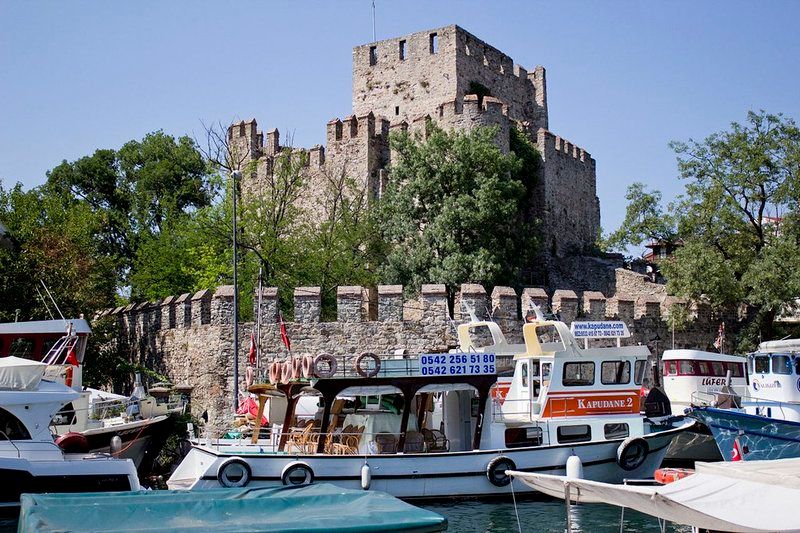 PHOTOGRAPHS ALBUM
Anadoluhisarı (English: Anatolian Castle) is a fortress located in Istanbul, Turkey on the Anatolian (Asian) side of the Bosporus, which also gives its name to the quarter around it. It was built between 1393 and 1394 by the Ottoman Sultan Yıldırım Bayezid I "The Thunderbolt" as part of his preparations for the Second Ottoman Siege of Constantinople, which took place in 1395. Sultan Bayezid built it on the ruins of a temple of Uranus. Originally named Güzelcehisar (Turkish: Beauteous Castle)
Anadoluhisarı, constructed on an area of 7,000 m2, is situated at the narrowest point with 660 m of the Bosporus strait and next to a creek named Göksu (Ancient Greek: Aretòs). The Fatih Sultan Mehmet Bridge, the second bridge spanning Bosporus, is located just north of the fortress. Anadoluhisarı was erected as a watch fort. It has a 25 m high, quadratic main tower within the walls of an irregular pentagon with five watchtowers at the corners.
Another fortress, Rumelihisarı, was built between 1451 and 1452 by Sultan Mehmed II opposite of Anadoluhisarı on the European side in order to obtain absolute control over the sea traffic of the Bosporus Strait, which was especially vital for the Genoese in Galata, who were allied with the Byzantines and had colonies in the Black Sea such as Caffa, Sinop and Amasra.
There is a masjid in the fortress. It is the oldest Turkish architectural structure built in Istanbul. The fortress was named "Güzelce Hisar" in historical documents. Sultan Mehmed II reinforced the fortress with a 2 m thick wall around it, which had three watchtowers. Some extension buildings like warehouse and houses were added as well. Due to changes made in the past, it no longer retains its original appearance. Following the conquest of Constantinople, it served as a military prison.
Anadolu Hisarı was composed of an inner square castle surrounded by walls on all sides and strengthened by a few towers. The main castle was a quadrangle design and its wall thickness changed between 2 and 3 meters. The three towers were all designed differently with different shapes such as a horseshoe, half round and cylindrical. During that time artillery had not yet been devolved in Europe so it was designed to cope with catapults and similar siege engines.
Anadolu Hisarı was renovated in 1452 by Sultan Mehmed the Conqueror during the construction of Rumeli Fortress on the opposite shore to create a choke point on the Bosphorus during the final and successful blockade on the city. The Hisar was used for some time as a prison and played an important role in stopping the Kazakhs attacking the Bosphorus in the 17th-18th centuries. In the following years, it lost its importance but it is still one of the most beautiful places of Istanbul.
The Turkish Ministry of Culture restored the site in 1991 - 1993. Today, this small fort creates a picturesque appearance with the old wooden houses leaning to its walls and its surroundings. Anadoluhisarı is a museum (historical site). Anadolu Hisari is an open air museum but only outer walls can be visited today.
LOCATION SATELLITE MAP
WEB SITE :
Anadoluhisarı Museum
MORE INFO & CONTACT
E-Mail :
anadoluhisarımuzesi@kultur.gov.tr
Phone : +90 212 263 5305
These scripts and photographs are registered under © Copyright 2017, respected writers and photographers from the internet. All Rights Reserved.