Yeşilköy, Bakırköy - Istanbul - Turkey
GPS : 40°57'47.1"N 28°49'35.5"E / 40.963090, 28.826524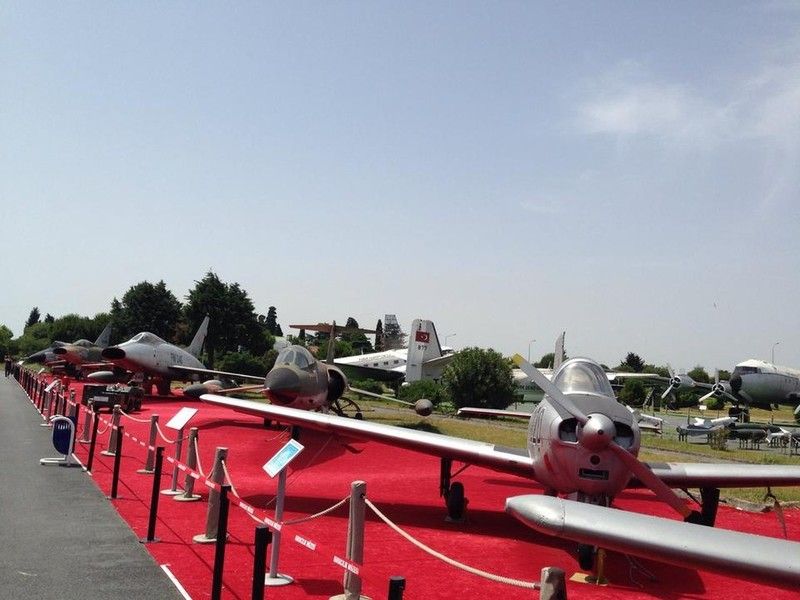 PHOTOGRAPHS ALBUM
The Aviation Museum in Yeşilköy traces the development of flight in Turkey. The Aviation Museum, originally called "the Air Museum" was first built in Izmir in 1971. However, due to lack of interest,it was moved to its present location in Yeşilköy, Istanbul in 1979.In 1985 it reopened to the public under the name "the Aviation Museum."
The museum has an area of 15,000 square meters in total. Of this area, 12,000 square meters are open and 3,000 square meters are covered. The Museum also features movie theater, conference room and a cafeteria.
The museum stands within the Air Command Headquarters of Istanbul and has both indoor and outdoor exhibition sections. Many planes used in Turkish Air Force history are exhibited in the open area, including wartime jets, other war and cargo planes, helicopters, jet-motor and hovercrafts, some aviation arms, pictures, emblems, medallions and belongings of Turkish air pilots, anti-aircraft artillery, missiles and radar. Many precious objects from Turkish Air Force history are displayed in the covered area.
The museum not only presents various warplanes, helicopters and weapons used by Turkish Air Force, but also civilian air transport and many samples of Turkish aeronautics history, starting from Ottoman era.
In addition to the display of emblems belonging to the Turkish Air Force, there is an aeronautical video playing for visitors at the museum's entrance. In the Commander Busts Hall, there are some oil paintings of commanders who have left a positive mark on aviation history. Bronze busts of the several commanders, especially those in command positition, are showcased along with a short biography.
In the uniform section of the museum, collections of historical value, such as the uniforms belonging to the first aviation commanders during the Ottoman Empire are on display. Medals and the uniform worn by the first aviation martyr of the Ottoman Empire, Fethi Bey, attracts the attention of the museum's visitors.
In the arms section, rockets, weapons used by warplanes, and many historical materials are on display for visitors who hold an interest in military aviation.
LOCATION SATELLITE MAP
WEB SITE :
İstanbul Aviation Museum
MORE INFO & CONTACT
E-Mail :
havacilikmuzesi@hho.edu.tr
Phone : +90 212 663 2490
These scripts and photographs are registered under © Copyright 2017, respected writers and photographers from the internet. All Rights Reserved.