Hasköy, Beyoğlu - Istanbul - Turkey
GPS : 41°02'30.0"N 28°56'55.0"E 8 41.041667, 28.948611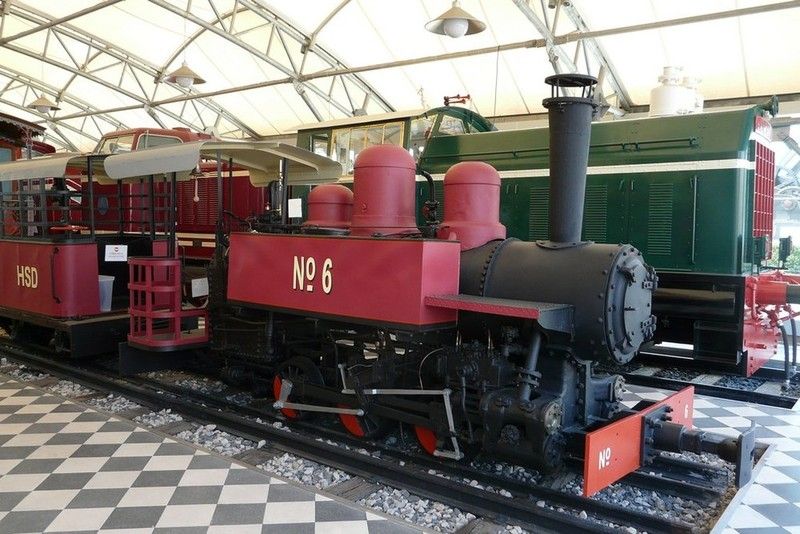 PHOTOGRAPHS ALBUM
The Rahmi M. Koç Industrial Museum is fortunate to be housed in two splendid, historical building complexes on the shores of the Golden Horn, at the heart of old Istanbul. These buildings are themselves icons of industrial archaeology, which makes it all the more appropriate that they now host our collection of industrial exhibits. The museum now has more than 11,000 square meters of galleries.
The Lengerhane
Now a Class II historical monument, this former Ottoman Navy anchor foundry was constructed on the 12th Century foundations of a Byzantine building during the reign of Sultan Ahmet III. (By the way, "lenger" means "anchor and chain", and "hane" means "house"). The building was subsequently restored in the reign of Sultan Selim III (1789 - 1807), before passing into the ownership of Ministry of Finance and finally, in the Republican era, the Turkish State Monopolies' Cibali Tobacco factory.
The Koç Foundation bought the first museum building in 1991, which was left derelict and seriously damaged after a roof fire in 1984 and the building was effectively abandoned until it was purchased by the Rahmi M Koç Museum and Culture Foundation in 1991.
The Hasköy Dockyard
This historic dockyard was founded in 1861 by the former Ottoman Maritime Company (Şirket-i Hayriye) for the maintenance and repair of its own ships. The yard initially comprised just two workshop buildings, and was gradually extended as needs and opportunities arose. A 45 m long cradle, powered by a steam capstan was constructed in 1884: later, in 1910, a second cradle was added and the capstan converted to electric power.
Some of the earliest ferry boats were constructed here, including public favourites such as the Kocataş and Sarıyer vessels laid down in 1938 and in service for nearly half a century. The dockyard went through many changes of State Ownership before ending up under the control of the Ministry of Communications In 1984. It was finally purchased by the Rahmi M Koç Museum and Culture Foundation in 1996.
The Restorations
The Rahmi M Koç Museum was founded in the Lengerhane building. The Lengerhane itself had been purchased in 1991 and was the subject of a thorough and sympathetic restoration by the firm of Garanti Koza. The original building was supplemented by an underground gallery reached by a long glazed ramp, and finally opened in December 1994. The first phase of the Museum rapidly outgrew itself, and in 1996 the Hasköy Dockyard, then just a ruin on the shores of the Golden Horn opposite the Lengerhane, was purchased. 14 derelict buildings plus the historic ship cradle and lathes were faithfully restored to their original condition, and the second phase opened to the public in July 2001.
The two buildings are on the same road, on opposite sides: the dockyard part of the complex is on the shores of the Golden Horn. A glass-sided ramp leads down to the basement exhibition area of the Lengerhane.
This exhibition section is divided into several subject, where you can enjoy a glimpse of the thousands of wonderful objects in our collection. On this page we show a few of the museum's favourites, arranged in the order in which they would be visited.
AVIATION
Who has not dreamed of flying like a bird? The concept is as old as the legend of Daedalus and Icarus, and came close to reality in the famous flight of Hezarfen Ahmet Çelebi from the Galata Tower to Üsküdar in the mid 17th Century. The 20th century Turkish aviation scene is represented by a wide variety of exhibits, from a tiny 2-seat Army trainer, to a classic DC-3 and the Mach2+ Lockheed Starfighter. We also have a salvaged B-24 fuselage, and a wide variety of smaller objects -including engines and models. Please click here for a list of major objects on display. There are aircraft (1941–1979), aviation parts collection, aircraft engines (1928–1979), large and small-scale aircraft models.
Douglas DC-3 "Dakota"
The most successful and well-loved airliner ever built, the DC-3 first flew in 1935, and became the mainstay of world civil aviation in the forties and fifties. Sixty years later, more than 400 remained in service. This particular aircraft was built in 1942 as a military C-47 Skytrain for the US Army Air Force, before being converted to DC-3 specification. This aircraft was a corporate transport for both Ford and General Motors before arriving in Turkey, where it performed charter work until being laid up in 1986.
F104 Starfighter
A 1974 Lockheed F-104 Starfighter, manufactured under licence by FIAT. This interceptor / bomber was used by the Turkish Air Force from 1974 to 1994. The short and exceptionally thin wings gave the aircraft high performance - a top speed in excess of Mach 2.2 - but also difficult handling characteristics and many were lost in training accidents over the years.
Bellanca 7 GCBC
This aircraft is based on the Aeronca 7, which first flew in 1946. Most were built for training, but aerobatic, crop spraying and reconnaissance models were also produced. This aircraft served with the Turkish Army Aviation School near Ankara, before being transferred to the Turkish Air Association in 1999.
B-24 Liberator "Hadley's Harem"
One of 178 Liberators that took off from Benghazi that bombed oil refineries in Ploesti, Romania on August 1st, 1943 - "Black Sunday". After bombing the target, and crippled by a German fighter, the B-24 tried to fly to the British Base at Cyprus but ended up ditching near Antalya. The front section was salvaged in 1995 and, partly restored, has been put on display with the help of Mr. Roy Newton, one of seven survivors of the crash.
Gipsy Major' Aero Engine
One of the most successful inter-war aero engines, the in-line, four-cylinder de Havilland Gipsy Major powered such notable aircraft as the Chipmunk and Magister trainers and the Dragon Rapide feeder airliner. This example was built in 1943, and came to the Museum via Yıldız Technical University.
De Havilland Vampire FB Mk 6
First flown in September 1943, the British De Havilland DH.100 Vampire was the second jet-engined aircraft of the Royal Air Force during WWII, although it did not see combat in that conflict. Originally named the "Spider Crab" because of its shape, it was the last example of composite wood and metal construction used in a high-performance military aircraft. It had straight wings and a single jet engine placed in an egg-shaped, aluminium –surfaced fuselage. To reduce losses caused by a long jet pipe, the designers used the distinctive tail with twin booms. This is a Mk 6 version, built under licence in 1952 by F. W. Emmen in Switzerland. It was used by a private pilot in the UK in the 1990's, before being purchased and restored by the Rahmi M. Koç Museum in 2007.
Aeromodelling
A fine model, (one of many in the Museum) in this case of a German First World War fighter aircraft, the Fokker Dr. 1 Triplane (made famous by the exploits of fighter ace Baron Manfred von Richthofen, the 'Red Baron'). The model is deliberately unfinished, so that the structure can be seen.
RAIL TRANSPORT
What is it about railways that stirs the soul so - especially steam ones? Surely every child, at some stage, wanted to be an engine driver - or at least own a model railway. Well, the child in us all is amply catered for at the Museum, as our collection includes everything from a tiny HO gauge model railway to a mighty 76 ton Prussian G10 steam locomotive - by way of narrow gauge locomotives, electric tram, and the unique cable-operated Tünel carriage and its mighty steam engines. Please click here for a list of major objects on display.
Kadıköy - Moda Tram
A great favourite with children, especially on Saturdays when a real tram driver relives the heyday of the electric tramways. This much-loved tram was built by Siemens of Germany in October 29, 1934 and for served for over thirty years until 1966. In 1955 the line was handed over to the IETT (Istanbul Electricity, Trams and Trolleybuses).
Imperial Coach of Sultan Abdülaziz
This beautifully restored coach was built in 1866 at Saltley, Birmingham by the Metropolitan Carriage & Wagon Company for Sultan Abdül Aziz and presented to him as a gift from the Ottoman Railway company, which operated the Izmir-Aydın route. The Sultan used the carriage during his tour of Europe in 1867 which he met the Emperor Napoleon III of France, Queen Victoria, the King of Belgium, the King of Prussia, and finally the Austro-Hungarian Emperor. It was restored at the Museum's workshops in 1998.
Rail Car "La Littorina"
A railcar is a self-propelled railway vehicle designed to transport passengers. The term "railcar" is usually used in reference to a single coach with a driver's cab and engine at both ends. The Littorina ALn 561903 on display is a rare and important item bearing the technical and aesthetic characteristics of the 1930's and it is intact with all the original fittings and accessories.
Locomotive G10 and Tender
The first G10 Locomotive came into service in 1910, and was used until 1925. These locomotives were known as G10 and BR57 while they were working in Prussia and Germany. Forty nine of these locomotives were made by various manufacturers, and came to Turkey at different dates. The Prussian G10 design has an unusual 0-10-0 wheel layout. This example was manufactured by Borsig in 1912 or 1913 and after service with the KPEV (Royal Prussian Railways) arrived in Turkey as one of an eventual total of 49 'Class 55' locomotives: it is now numbered 55022. This impressive steam engine is 18.9 metres long and weighs 76 tonnes.
Narrow-Gauge Steam Locomotive
Built by the firm of Orenstein and Koppel of Berlin-Drewitz in 1930, this attractive and fully-working narrow gauge locomotive bears the serial number 12212, and was used in light industry until the late 1960s.
"Tunel" Carriage and Railway Winding Engine
The "Tunel" – a short, steep underground railway from Galata up to İstiklal Street - was opened for service on the 17th January 1875 and is the third oldest passenger underground, after London and New York. A 19th Century Passenger Carriage from the Tunnel Railway, raised and lowered by metal straps connected to the large twin cylinder Winding Engine built by Schnieder Creusot Iron Steel Works, France 1873. On loan from the İETT- Electric Tramway and Tunnel Establishment of İstanbul.
Henschel Steam Locomotive
Another German narrow-gauge locomotive, this example, serial number 15943, was built in 1918 by Henschel & Sohn of Cassel. It spent its latter years transporting military personnel from the centre of the Anatolian town of Eskişehir to and from the major Turkish Air Force base outside the town.
Horse Drawn Tram
A horse drawn tram made its first trip in Türkiye on September 3rd 1872, on the route Azapkapı - Ortaköy in İstanbul. The last examples had been replaced by the more efficient electric type by 1914. This particular tram worked on Route no. 14 between Beşiktaş and Karaköy, and is shown in its original Otoman era livery.
MARINE
Reflecting a special interest of our founder, the Museum has a huge range of Marine exhibits. Full size vessels like the steam tug Liman 2 or the characterful Turkish "Taka", a unique set of Bosphorus rowing boats, and a fine and extensive collection of models from rowing boats to ocean liners set the scene: these are complemented by hundreds of nautical artefacts from basic ships' equipment - anchors, telegraphs, binnacles, blocks & tackles - to superb and decorative navigation instruments like sextants, octants, hourglasses and bearing indicators.
Submarine "TCG Uluçalireis"
This vessel was originally built as the BALAO/TENCH-class US Navy Submarine USS THORNBACK (SS-418) at Portsmouth Naval Shipyard, USA in 1944: it is more than 93 m long, and displaces more than 2,400 tons. The boat saw service in the Second World War against the Japanese before being recommissioned and placed in the US Navy Reserve fleet in 1946. In the early 1950s USS THORNBACK was modernized to GUPPY II a specification and re-entered service in 1953. She was transferred to the Turkish Navy on 2nd July 1971, and immediately renamed TCG Uluçalireis with pennant number S-338. She then gave thirty years of valuable service to the Republic of Turkey before being finally transferred to the care of this Museum in 2001.
The Sailing Boat Which Blazed a Trail: 'Kısmet'
In 1965, Sadun Boro, the first Turkish sailor to globe trot, with his wife Oda and their cat Miço who joined them from the Canary Islands, went on a tour around the world which took 2 years and 10 months in Kısmet, their 10.5 metre boat. They set sail from İstanbul on the 22nd August 1965, navigating a route through Gibraltar, Canary Islands, Barbados, Caribbean Islands, Pana-ma Channel, Galapagos Islands, Marquise Islands, Tuamotu Islands, Tahiti and Leeward Islands, Tonga Islands, Fiji Islands, New Hebridean Islands, New Guinea Island, Torres Strait, Timor Island, Indonesia, Singapore, Bengal Bay, Ceylon Island, Arabic Sea, Red Sea, Israel and arrived back in İstanbul on 15th June 1968. Their daughter Kısmet Deniz was born in 1969. In 1977, the Boro family set sail again in Kismet with their daughter for their second journey around the globe which would take two years and 3 months. Kindly Donated by Mr. Sadun Boro.
Tekel 15
The Turkish 'Taka' is a much-loved institution, and only a handful remain. Wooden hulled, sturdy, and built for local cargo duties, the colourful Taka was a familiar sight in the waters around Istanbul. This particular example worked for the State Liquor Monopoly, Tekel and was built in the Black Sea region in the immediate post-war years.
Tugboat "Liman II"
The İstanbul Port Company commissioned the Dutch firm Kreber to build the Tugboat Liman 2 in 1935. The completed vessel arrived in İstanbul in 1936. The tug was used as a general harbour tug, assisting larger ships into and out of the harbour at the Port of İstanbul continuously until 1988. In 1990, Mr. Rahmi M. Koç bought it with the intention of restoring it into a museum exhibit. Restoration began in April 1990 and was completed in July 1992, when she began her new lease of life. The Liman 2 is in fully working condition and gives regular tours of the Golden Horn in summer weekends.
Riva Aquarama
Surely one of the most beautiful and glamorous motorboats ever designed, the Riva Aquarama is one of the last wooden vessels from the famous Riva Shipyard in Italy. It is powered by twin Chris-Craft V8 engines of 230 hp each.
Lifeboat
The Royal National Lifeboat Institution (RNLI) is responsible for sea rescue around the shores of Britain, and is famous for its innovative lifeboat designs. This "Liverpool Self-righting" class boat, Serial No. 541, was built by Groves and Guttridge on the Isle of Wight in 1951, and is powered by twin Perkins diesel engines. It is self-righting, due to its inbuilt buoyancy tanks at the bow and stern. It was part of a batch of 10 boats ordered, then canceled by the RNLI: the makers later completed the boats and sold them privately. This vessel was stationed at Kilyos, on the Black Sea coast near Istanbul, by the Turkish Maritime Lines.
Bosphorus Boat
Before the construction of the shore roads on both sides of the Bosphorus (and a very long time before the two bridges!) the only way to access palaces and mansions along the Bosphorus shores was by boat. This 6.8 meter Royal boat is particularly elegant, with its 3 pairs of oars and rich and colourful decoration.
Outboard Motor Collection
The Museum houses a remarkable collection of over 30 outboard motors, with such famous and evocative names as British Seagull, Johnson, Evinrude, Sea King and Champion - as well as rarer marques like Water Witch, Muncie, Lockwood and Elfo.
M/V Fenerbahçe Ferry Boat
The M/V Fenerbahçe is a ferry built in 1952, the same year as its sister ship the M/V Dolmabahçe, at the William Denny & Brothers shipyard in Dumbarton, Glasgow. The ship is one of the so-called "garden type" and went into service on 14th May 1953 as part of the Turkish Maritime Lines Fleet. For many years the ship plied the Sirkeci - Adalar - Yalova-Çınarcık line between İstanbul and the southern shore of the Marmara Sea, making its last farewell voyage on 22nd December 2008. The ship has two 1500 horsepower Sulzer diesel engines, twin screw with a maximum speed of 18 knots per hour. It is a handsome vessel, with its huge funnel and wooden fittings. The ferry is on loan from the İstanbul Metropolitan Municipality. Since 2009, it has served as a museum ship that is open to the public and is a venue for temporary exhibitions and educational events. Visitors can also enjoy the nostalgic atmosphere of the cafe.
1961 Amphicar
The amphibious Amphicar was designed in 1957-8 in Germany. It has a rear mounted Triumph Herald engine, driving the rear wheels or propellers, and is steered in water by turning the front wheels.
ROAD TRANSPORT
From 1753 horse carriage to 1976 Daimler Limousine: from tiny children's' bicycles to a huge Magirus-Deutz fire engine: this, our most popular department, illustrates the history and variety of road transport through the ages. We have more than 40 cars and commercial vehicles, 10 motorcycles, a fine collection of vintage bicycles, and two very spectacular steam traction engines.
1898 Malden Steam Car
At the turn of the century there were three competing forms of motive power for cars: petrol, electricity and steam. Each offered similar performance, and steam cars were very successful. This particular model was built in Malden, Massachusetts, USA in 1898 and gives a clear idea of how much the design of early cars owed to the horse carriage. This Malden car is one of the primal and most important parts of our collection, dates from 1898, and was obtained from the Zimmerman Museum in Pennsylvania.
1965 Rolls Royce Silver Cloud
Rolls- Royce, founded in 1904 by Charles Rolls and Henry Royce, is famous for producing cars of exceptional quality, with perhaps the most respected brand name in motoring. The imposing Rolls - Royce Silver Cloud III was a refinement of the Cloud II, which was itself a V8 version of
the straight 6 - engined Cloud I. This fine example was the property of the famous record producer and founder of Atlantic records, the late Mr. Ahmet Ertegün. Kindly donated by The American - Turkish Society.
1917 Albion X-Ray Ambulance
The famous Scottish firm of Albion, formed in 1899, is well known for its commercial vehicles, especially lorries and buses. The A10 was one of the most common chassis used by the British Army in the First World War, and gained a fine reputation for strength and reliability, with almost 8,800 produced in total. This particular vehicle, ordered in January 1917 (with the body work and X-ray equipment fitted later in England), presumably saw service in the conflict between the Allied forces and the Ottoman Empire. The vehicle operated in Turkey for some years after the war before going into storage and being restored by this Museum's Workshop in 2001.
Ford Model T
The Museum is fortunate enough to have three examples of this famous car - a 1908 2 seater wagon, a 1918 roadster and a 1918 tourer and a 1926 TT Bus. The Model T was introduced in 1908, and more then 15 million cars were built up to 1927, using the then-new principle of the assembly line.
Delahaye Fire Engine
Emile Delahaye made his first two cars for the Paris-Marseilles Race in 1896. By 1904, the firm was concentrating on large, reliable cars and commercial vehicles. This Edwardian fire engine was built on a 43 hp car chassis, incorporates both water pump and ladder and originally operated in Paris. It was later privately owned, before being sold to a collector in England.
Fowler Traction Engine
John Fowler was born in Wiltshire, England in 1826 and was one of the pioneers of steam power in agriculture. After his early death in a riding accident in 1864, his firm carried on and became well known as a maker of mobile steam engines. This fine 19th century example was used as a 'road roller', making asphalt roads smooth after construction or repair.
Penny Farthing
Since the pedals of early bicycles were fixed to the front wheel, the only way to increase speed was to enlarge the size of the front wheel. Hence the Ordinary, or Penny Farthing introduced in England by James Starley in the early 1870's. In 19th Century England, the penny and the farthing were two low-value coins - the farthing being ¼ of a penny, in both value and size. Hence the nickname of these amazing contraptions, with their huge, fixed-gear main wheel.
Magirus Fire Engine
The Magirus name is synonymous with high-quality fire fighting appliances around the world. This imposing example was produced in the Kühler Factory in Germany on September 27th, 1922. It saw service in the Municipality of İzmir who kindly donated the engine to the Museum.
LOCATION SATELLITE MAP
WEB SITE :
Rahmi M. Koç Industrial Museum
MORE INFO & CONTACT
E-Mail :
info@rmk-museum.org.tr
Phone : +90 212 369 6600
Fax : +90 212 369 6606
These scripts and photographs are registered under © Copyright 2017, respected writers and photographers from the internet. All Rights Reserved.