Harbiye, Şişli - İstanbul - Turkey
GPS : 41°02'44.2"N 28°59'16.2"E / 41.045615, 28.987825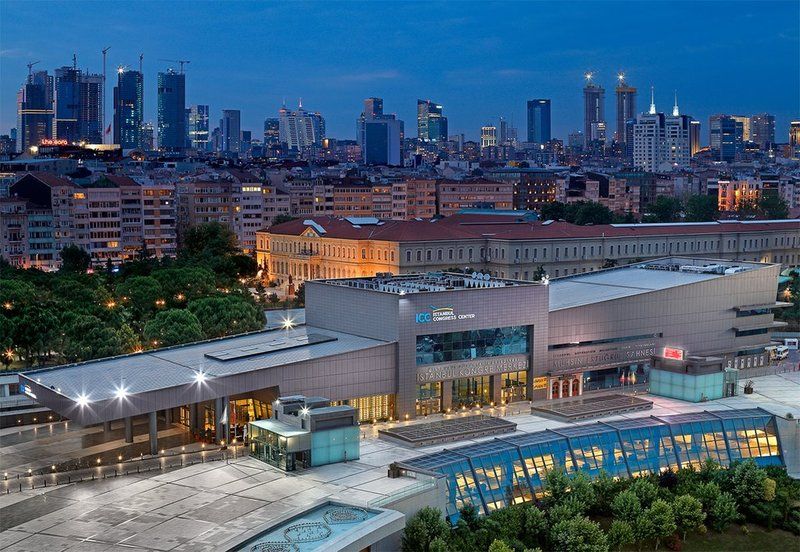 PHOTOGRAPHS ALBUM
Istanbul Congress Center is an international congress and event destination, boasting world-class technological infrastructure, experienced staff, and a high-quality service it offers to visitors. Spanning an area of 120.000 m2 on a total of eight floors, Istanbul Congress Center hosts social, cultural and professional events of all kinds, including but not limited to national and international congresses, conferences, symposiums, corporate meetings, fairs, exhibitions, concerts, musicals, and theater and movie premieres.
Istanbul Convention Center which is the biggest convention center in Turkey, aims to be the center for conventions and events in any scale, with different sized multipurpose meeting saloons, fair and exhibition areas, besides its 3700-person capacity auditorium. ICC is a cultural and artistic meeting point with its central location in Istanbul.
Together with the aim of providing wide range of event opportunities, ICC opens a new and important door for the ones who want to work in this industry by providing employment in convention tourism with its innovative and creative mission.
Istanbul Convention Center, which is the biggest convention center in Turkey, will be hosting many nationally and internationally held events, without being contented with serving just domestically, in order to become the biggest convention center not only in quantity, but also in quality.
In that way, ICC will not only contribute directly to introduction and economic life of Istanbul, but also will be a propellant power in the aim of Turkey to be the global leader in political, economic and cultural area.
HALLS
G0
The G0 floor, which you'll find just after you enter the main entrance of ICC, has a luminous ambiance and a stylish decor, making it ideally suited to launches and other kinds of events.
B1
Foyer : Presents a matchless ambiance that you may prefer for your special events with its spectacular Bosphorus view and extraordinary architecture.
There are halls in different sizes from 45 m2 up to 180 m2 that may provide 6 different usage features in total.
B2
There are 10 rooms in different sizes from 180 m2 up to 1300 m2, which are available to provide alternatives in accordance with events. 3 of our rooms may be separated with special soundproof separators. Also in the foyer area of B2 floor, food & drink offering service for guests is provided.
Harbiye
Harbiye Auditorium may host many different events from histrionics to international congresses, with its sophisticated infrastructure, special acoustic architecture, 620 m2 stage area, 3700-person capacity and 24 simultaneous translation cabinet. Another distinctive characteristic of Harbiye Auditorium is its ability to be separated into different areas with mobile screen system.
Üsküdar Hall
The second biggest meeting hall of Istanbul Convention Center is Üsküdar Hall; it has a 1300 m2 net usage area, 6 meters ceiling height, 8 simultaneous translation rooms and 1200-person capacity in theatre order. Another characteristic of Üsküdar Hall is its ability to be divided into 3 parts and raises its room number inside.
Beyazıt Hall
781 m2 Beyazıt Hall of Istanbul Convention Center, which can be used with different seating orders, may host comfortable meetings with its 600-person capacity in theatre order, 300-person capacity in class order. Besides, Beyazıt Hall provides service with 6 simultaneous translation rooms.
Emirgan Hall
Emirgan Hall may host different organizations with its 774 m2 usage area, 6 meters ceiling height, 600-person capacity in theatre order, 250-person capacity in class order. Another characteristic of Emirgan Hall is its ability to be divided into 2 parts and used in different square meters.
Çamlıca Hall
Çamlıca Hall provides service with a 580 m2 usage area, 4 simultaneous translation rooms, 450-person capacity in theatre order and 280-person capacity in class order.
Beylerbeyi Hall
Beylerbeyi Hall provides service with a 520 m2 usage area, 380-person capacity in theatre order and 300-person capacity in banquet order. The Hall with 4 simultaneous translation rooms may be divided into 2 parts with soundproof separator system.
B3
There are workshop rooms on the B3 floor with a 8000 m2 usage area, that differs from 17 m2 up to 172 m2.
B4 - B5
B4 and B5 floors of ICC, which has the biggest closed fair area in Turkey, with a 14,000 m2 usage area in total and 7.2 m ceiling height, may host many events from vehicle launch to concerts with high level of participation.
B6 - B7:
The large and comfortable car park of Istanbul Congress Center is built on a 32.905 m2 area and it has a capacity of 850 cars. It offers safe service 7 days and 24 hours a week.
SERVICES
Catering
In your special events, we add value to your organization by working indefectible and integrating our service quality with delicious food. Covering an area of 1,500 m2 and complying with hygiene and sanitation standards, the kitchen boasts expertise in local dishes and international cuisine. ICC's kitchen holds the HACCP certificate, the worldwide standard in the field of hygiene and food safety. Istanbul Congress Center can serve up to 15,000 people in numerous events such as congresses, special invitations, corporate dinners, cocktail parties, weddings, and lunch box or concept projects.
Av Technology
We provide the most qualified technical service to our guests by tracking the ever-changing and improving technology. ICC's solution-oriented and professional team provides fast and world class technological assistance for your event.
Technical services we provide
Sound, Sound Mixers, Amplifiers, Microphones, Processors, Resources, Intercom Systems
Vision
Vision Mixers, Cameras and Monitors, Vision Screens, Watchout System, VideoMappin System, Indoor Led Screens, Projection screens and projections
Luminary
Luminary Desks, Moving Luminary (High End studio command 1200 / Robe Color Spot 1200 AT / Robe Red Wash / Robe led Blender), Stable Luminary (Selecon 2500 watt alto pc / Selecon 2500 watt alto / Etc source four 750 watt / Par 64 / Fressnell), Dimmer, Pursuit Spots
Conference Systems
Simultaneous Systems, Delegation Systems, Video Conference, Cabinets, Enrollment, Truss, Acoustic Panels
ADDITIONAL SERVICES
Parking
In order to ease traffic density brought along by a Metropolis, ICC provided a facility to its visitors by an underground parking area as a solution to traffic problem. Istanbul Convention Center has a parking area available for 850 vehicles. Besides, there is a parking area for handicapped visitors, which is available for 7 vehicles. We provide 7/24 continuous service to our guests without any parking problem.
Security
Our center is guarded 7 days 24 hours, by a security team who are expert in their subject. At the same time, for the safety of our guests, our building is surrounded by 11 fire escape stairs, 39 emergency exits, fire and smoke sensors that are able to intervene in every floor and every area.
Cleaning
Istanbul Convention Center has world class cleaning standards and 7 days 24 hours cleaning service is provided.
First Aid
Istanbul Convention Center has first aid intervention service for emergency situations. Besides, ICC is a few minutes walk to leading health centers.
In line with your requirements, necessary host and hostess service is provided.
LOCATION SATELLITE MAP
WEB SITE :
Istanbul Congress Center
MORE INFO & CONTACT
E-Mail
:
sales@iccistanbul.com
Phone : +90 212 373 9900
Fax : +90 212 373 9943
These scripts and photographs are registered under © Copyright 2017, respected writers and photographers from the internet. All Rights Reserved.