Süleymaniye, Fatih - İstanbul - Turkey
GPS : 41°01'00.0"N 28°57'44.0"E / 41.016667, 28.962222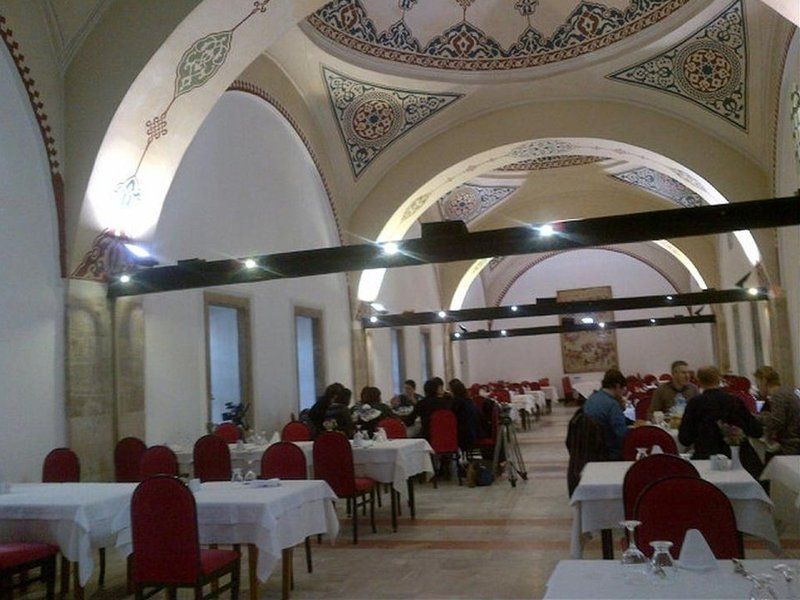 PHOTOGRAPHS ALBUM
Sultan Süleyman the Magnificant commissioned the Süleymaniye Mosque, which was designed by Architect Sinan and built between the dates 1550-1557. It is the central piece of a külliya. Our building had been used as an imaret at the beginning and then it was used as the dining hall (dar'üz ziyafe) of the empire. In Darüzziyafe building, Turkish and Islamic Arts Museum has been opened for visit in 1913.
The museum has been moved to İbrahim Pasha Palace from here in 1983. Until 1987, it had been empty. In 1987, the building was allocated to the Foundation of the Turkish World Researches.
After a nine month restoration period that covers the preparing the most harmonic project with the magnificent building complex of Suleymaniye, the scouring the stone and marble surfaces, landscape gardening, the restoration of the miniatures, stained glasses, and needles just as original; the repair works of the roof, setting the light and sound system; design and creation of the kitchen and dining halls, it was open to serve in January 18, 1992 as Darüzziyafe Turkish Cuisine.
Today, Darüzziyafe Turkish Cuisine, like its past, serves as a "banqueting chamber" and keeps alive our taste and cuisine culture. In every corner of Darüzziyafe, you can feel the history. Darüzziyafe, is also a product of our history, serves the precious tastes of the Turkish Cuisine with the sounds of Turkish Classical Music that is the product of the refined pleasure and elegance of our ancestors. You can escape from today's complicated and stressful atmosphere for several hours by finding peace under the old trees of Darüzziyafe.
Darüzziyafe Turkish Cuisine, A la Carte Service; In Kanuni Lounge 350 people, In Sinan Lounge 250 people, In Turkish World Lounge 120 people. Total 720 people can be served at the same time. This number can be raised to 1100 with the use of the garden in the summer.
Meetings and The Special Events: Serving in three lounges, our restaurant prepares special menus for your meetings, cocktails, engagement and wedding ceremonies. We entertain your guests in a proper ambiance with unforgettable tastes. Darüzziyafe offers a lot of entertainment choices, which Sufi and Turkish Classical Music Group, Sema Performance and Turkish Folklore Dance Group are most popular ones.
Turkish Classical Music Group: Our music group performs on Turkish Classical Music and Fasıl Program at all weekends in summer and everyday at Ramadan for dinner continuously since 1992. Chief of the Chorus, Nermin Gültek and the other members of the Darüzziyafe Music Group were graduated from well known music schools and work with amateur soul and enthusiasm. The aim of the group is to protect and keeping alive Fasıl and the other kinds of Turkish Classical Music for the future generation.
DARUZZIYAFE and TURKISH CUISINE
Naturalness, sense of taste and cure constitute eminent features of Turkish cuisine. Turks, on account of the experiences they have gained for eras, have cared for the foods richly ornamenting their dining table to have benefical, delicious and energetic features.
Indeed, they have gained great proficiency in such matters as how to cook any foodstuffs without spoiling its nature, making them more delicious and handling some of foodstuffs that could last long. In that manner, they, with a sensitive delight, turned the dining table and the food into an art by cooking the meat that best suits the meal made of, serving the kind of Şerbet (sweetened fruit juice) that would best suit the meal served with. Thus, Darüzziyafe exists by this taste and ardour of being heir of such a rich inheritance.
We, uniting our historical cuisine with present Anatolian cuisine , desire to welcome both our people and our guests coming to our Country, to taste precious tastes of rich Turkish Cuisine in a wonderful Turkish atmosphere. We are in effort of making our guests to have kinds of the foods that kept our ancestors fit, healthy and merry. With this effort, we have been preparing the most outstanding samples of the foods of our unique cuisine the number of which are expressed by thousands and serving from oil proportion to cooking methods in accordance with its origin in every respect.
You may have your meal with the accompanying music that gives peace to your soul, try tens of kinds of Şerbets and desserts, have a pleasent time in a pure place where our cuisine that has turned towards to disappear is saved here at Daruzziyafe. Nowadays that all tastes are made artificial, we invite you to taste the foods that are essence to Daruzziyafe.
Tatname - Secret of Tastes
Turkish kitchen is a highly rich culture. Turks used to regard health and nutrition as important notions, and combined their tastes with art. As they were spreaded throughout a wide geographical region, they were involved in interaction with various cultures, founded major states and civilizations; as a consequence of the affects by miscellaneous cultures, they skillfully displayed the unique examples of such a rich kitchen, and the kitchen culture they had brought from Central Asia experienced its glorious age with the Ottoman Civilization.
Turks have always cooked uniquely delicious food at special dates and times which reinforce unity and cooperation, such as wedding ceremonies, religious festivals, funerals and Ramazan which is both religious and social characteristics. Such food inherited from the Ottoman ancestors and even used to complement the dinner tables in Ottoman palaces has a privileged status in terms of both taste and appearance; each prepared in a combination of love, care and the sense of sharing.
The act of eating in Turks is the purest cultural treasure decorated with symbols of rituals from selection of materials to cooking, from tasting stage to service; as each food carries the images pertaining to any stages of life from delight to despair, and to metaphysical dimensions. Every national kitchen stores these images in their refined form. Turkish kitchen is one of the world's three major kitchens, carrying the most vivid tracks. Every culture is vital and rich. However, Turkish kitchen, which has blended the cultures of all geographical areas from Central Asia to Anatolia, with modern tastes, is a huge cultural
treasure.
Turkish kitchen is the fruit of a long past, and includes nearly thousands of food types. The most outstanding reason for the abundance of food is a variety of materials from a wide geographical scope, and the taste in using them. As a result of experience in using delicacy of any vegetables, spices, and meat with a great skill, Turkish kitchen has both become healthy and gained a visual appeal, in other words, appealing both to the stomach and the eye.
Today, the sorts of food in Turkish kitchen are estimated to be around 4000-5000 under the light of studies performed. As known, there are 240 types of food made of eggplant, as well as over 40 spices, dozens of sherbets and completely natural and nutritious types of dishes free from any chemical additives. Turkish kitchen should not be regarded only as a variety of foods, but also comprehensively as the components of their preparation from storing and cooking of materials to the dishes used, from serving the food to eating. Because Turks have always regarded all these stages important and holy. All the said elements are the integral parts of Turkish food culture and abundance.
MENU
The Tastes of Darüzziyafe Turkish Cuisine was determined after a very careful archive research. In the light of this research, everyday, it is prepared 400 kinds of meals and nearly 50 of them is served.
Soups, Salads and Pickle, Pastries, Vegetables and Cold Dishes With Olive Oil, Regional Dishes, Vegetable Dishes, Vegetable Dishes With Meat, Pilavs and Macaroni, Sea Food, Game Meat, Chicken Food, Veal and Lamb Food, Meat Balls, Stews, Kebabs, Boiled Food, Dessert, Dough Desserts, Milk Desserts, Fruit Desserts, Jellies, Compotes, Beverages, Sorbets, Herb Teas
LOCATION SATELLITE MAP
WEB SITE :
Darüzziyafe Restaurant
MORE INFO & CONTACT
E-Mail :
daruzziyafe@daruzziyafe.com.tr
Phone : +90 212 511 8414 / +90 212 512 1100
Fax : +90 212 526 1891
These scripts and photographs are registered under © Copyright 2017, respected writers and photographers from the internet. All Rights Reserved.