Galatasaray, Beyoğlu - İstanbul - Turkey
GPS : 41°02'02.2"N 28°58'41.2"E / 41.033944, 28.978111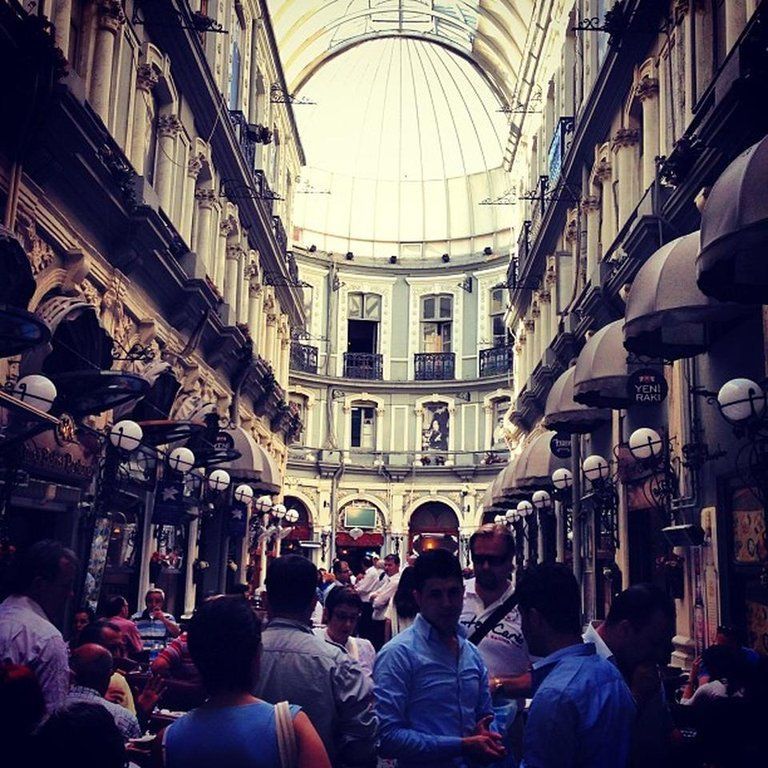 PHOTOGRAPHS ALBUM
Çiçek Pasajı (literally Flower Passage in Turkish), originally called the Cité de Péra, is a famous historic passage (galleria or arcade) on İstiklal Avenue in the Beyoğlu (Pera) district of Istanbul, Turkey. It connects İstiklal Avenue with Sahne Street. Opened in 1876, the 19th century Çiçek Pasajı can be described as a miniature version of the famous Galleria in Milan, Italy, and has rows of historic pubs, winehouses and restaurants.
The site of Çiçek Pasajı was originally occupied by the Naum Theatre, which was severely damaged by the Fire of Pera in 1870. The theatre was frequently visited by Sultans Abdülaziz and Abdülhamid II, and hosted Giuseppe Verdi's play Il Trovatore before the opera houses of Paris.
After the fire of 1870, the theatre was purchased by the local Greek banker Hristaki Zoğrafos Efendi, and architect Kleanthis Zannos designed the current building, which was called Cité de Péra or Hristaki Pasajı in its early years. Yorgo'nun Meyhanesi (Yorgo's Winehouse) was the first winehouse to be opened in the passage. In 1908 the Ottoman Grand Vizier Sait Paşa purchased the building, and it became known as the Sait Paşa Passage.
Following the Russian Revolution of 1917, many impoverished noble Russian women, including a Baroness, sold flowers here. By the 1940s the building was mostly occupied by flower shops, hence the present Turkish name Çiçek Pasajı (Flower Passage). After the restoration of the building in 1988, it was reopened as a galleria of pubs and restaurants. The most recent restoration was made in December 2005.
Now the astounding passage way with balconies and ceiling soaring high above are filled with restaurants and bars. Wandering musicians come and go as those seated among the expanse of tables sample delicious traditional dishes.
The Çiçek Pasajı (Flower Lane) connects with the Balık Pazarı (Fish Bazaar), which still retains a number of fresh fish outlets, also boasts beautifully laid out fruit and vegetable stalls, and delightful, spice, meat and poultry shops aswell as a number of delicatessans.
To the rear of the Bazaar Nevizade Street host of series of lively restaurants, where people gather to sit, eat, drink and talk, in the warmer months the activity is all outdoors in the open street.
Çiçek Pasajı is under controlled of Çiçek Pasaji association. The feelings that dreaming gives is unique in taverns of Çiçek Pasajı.
LOCATION SATELLITE MAP
WEB SITE :
Çiçek Pasajı
MORE INFO & CONTACT
E-Mail :
semagenc@tarihicicekpasaji.com
These scripts and photographs are registered under © Copyright 2017, respected writers and photographers from the internet. All Rights Reserved.