Kemerburgaz, Eyüp - İstanbul - Turkey
GPS : 41°08'51.0"N 28°55'20.0"E / 41.147500, 28.922222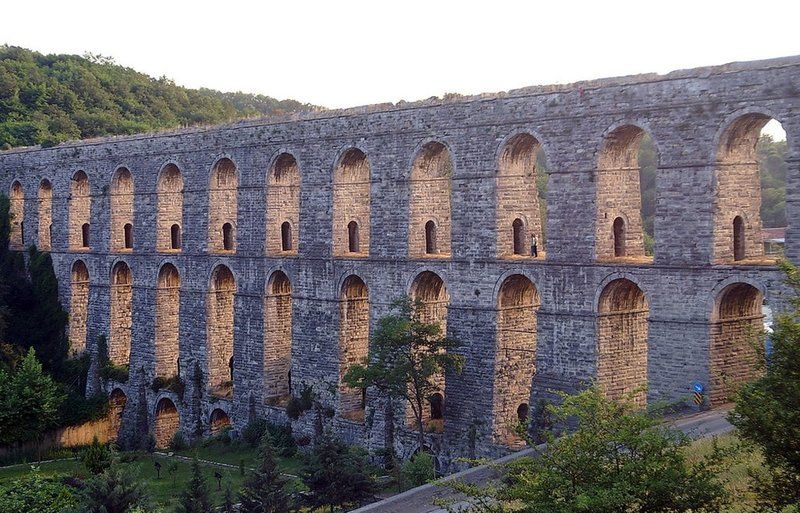 PHOTOGRAPHS ALBUM
Kovuk Aqueduct built by Mimar Sinan in between 1554-1564, the whole first storey and some parts of the second storey of the Kovuk Aqueduct were built in Byzantine Period. It was built over the foundations of a previous Byzantine aqueduct.
The aqueduct, which is 2 km outside of Kemerburgaz centre, is located on the Kemerburgaz - Hasdal road. It is a three storied structure with a total length of 408 meters. The height of the Kovuk Aqueduct is approximately 35 meters. The wall thickness is around 7 meters at the first floor, it is 3.3 meters at the top floor.
One end of the aqueduct has been covered over by a factory that belongs to the Municipality and at the other end, there are beehives. You can climb the aqueduct and view the structure where it makes an almost ninety degree turn.
The bold but old and fatigued walls of the old aqueduct have been retired and water is now carried over to Istanbul by pipes laid down according to new technologies.
The aqueducthas been a fragment of the Kırkçeşme Water Supply System which was providing water supply between Bergrad and city center, over Eyüp district of İstanbul. This water supply was divided into two branches on the water conveyance line. Eğri Aqueduct is located on the eastern side of this organization.
It is also the biggest aqueduct among the eastern fragments. It has acted an important role for water to pass over the Kağıthane Stream. It also provides access for pedestrians to walk over the aquedacts. However, a factory, latter built next to the aquedact entrance blocks to go through the structure.
Presently, the aqueduct is a well preserved structure, reflecting Sinan's architectural approach; however a factory that was built next to it blocks some of the structure to be viewed.
However, the pedestrian overpasses on the upper sections make it possible to view the aqueduct from a higher elevation. Furthermore there are ongoing surveys for the restoration of the aqueduct.
LOCATION SATELLITE MAP
These scripts and photographs are registered under © Copyright 2016, respected writers and photographers from the internet. All Rights Reserved.