Yıldız Park, Beşiktaş - Istanbul - Turkey
GPS : 41°02'58.5"N 29°00'35.1"E
41.049583, 29.009750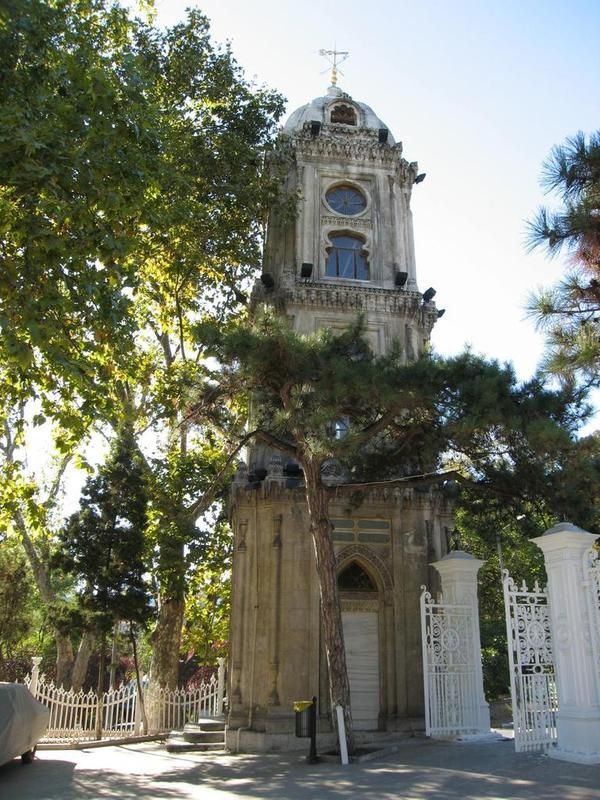 PHOTOGRAPHS ALBUM
Yıldız Clock Tower (Turkish: Yıldız Saat Kulesi), is a clock tower situated in the garden of the Yıldız Hamidiye Mosque, in Yıldız neighborhood of Beşiktaş district in Istanbul, Turkey at the European side of Bosphorus. It is in the southwest corner of Yıldız Mosque's yard.
History
The tower was ordered by the Ottoman Sultan Abdülhamid II (1842-1918) in 1889-1890 in the garden of the Yıldız Hamidiye Mosque, and the construction completed in 1890.
Structure
The three-story structure in Ottoman and neo-gothic style has an octagonal plan. Outside the first floor, there are four inscriptions, the second floor contains a thermometer and a barometer, and the top floor is the clock room. The clock was repaired in 1993. A top the decorative roof, a compass rose is found.
The tower is 20 meters in height, and three stories high, with a weather vane at the top. Those who dare scale the three staircases that lead all the way to the top of this old clock tower are rewarded for their efforts by seeing the clock room and the incredible setting mechanism here.
On the outside of the structure, there are both a barometer and a thermometer, with signs in old Turkish indicating the state of wind and rain and such.
It was built in 1890 and has been taking attention with its synthesis of orientalist and neo-gothic design. The three storied tower was ascending on a square plan with broken corners, and is covered with a sharp and slivered dome. In the covering part, there are slivered and arched roof windows.
The clock was repaired in 1993.
LOCATION SATELLITE MAP
These scripts and photographs are registered under © Copyright 2017, respected writers and photographers from the internet. All Rights Reserved.