Aksaray, Fatih - İstanbul Turkey
GPS : 41°00'49.5"N 28°56'55.5"E / 41.013750, 28.948750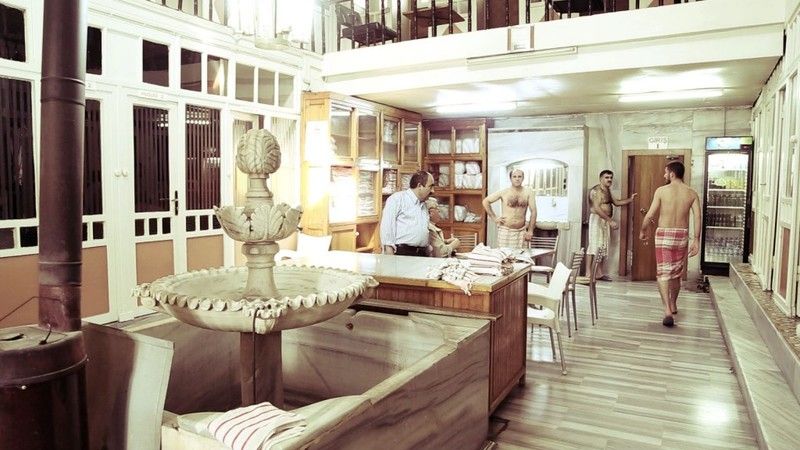 PHOTOGRAPHS ALBUM
The Turkish bath located in Sofular Neighborhood derives its name from Sofular Mosque. The hamam is located where Sofular Avenue and Molla Hüsrev Avenue cross. Across the Turkish bath are Molla Hüsrev Mosque and Sofular Mosque while Bıçakcı Alaeddin Mosque is a little at the back. The Turkish bath which is still active is double and endowed by Sultan Bayezid II.
Sultan Bayezid II had this place constructed to provide an income for the kulliye in Edirne. In the middle of glasshouse there are a fountain pool and two flat locker rooms, and a wooden torch on the roof. There are three boxes for washing glove and a warm private room on the right of the warm room.
The top of the private rooms were covered with a dome. The top of the warm room is vaulted roof. There is one bench on the right and left of the hot room and the top of this place is covered with glass arch. The sides of the domes of the private rooms are shaped and the top of the sofa are vaulted roof.
Sofular Hamam is a brilliant Turkish bath which has octagonal navel stone under the big dome in the middle. The original form of the Turkish bath burnt out in the fire in Cibali in 1833.
LOCATION SATELLITE MAP
WEB SITE :
Sofular Hamamı
MORE INFO & CONTACT
E-mail :
jagrolet@gmail.com
Phone : +90 212 521 3759 / +90 212 521 7050
These scripts and photographs are registered under © Copyright 2017, respected writers and photographers from the internet. All Rights Reserved.