Caferağa, Kadıköy - İstanbul - Turkey
GPS : 40°59'31.0"N 29°01'24.3"E / 40.991944, 29.023417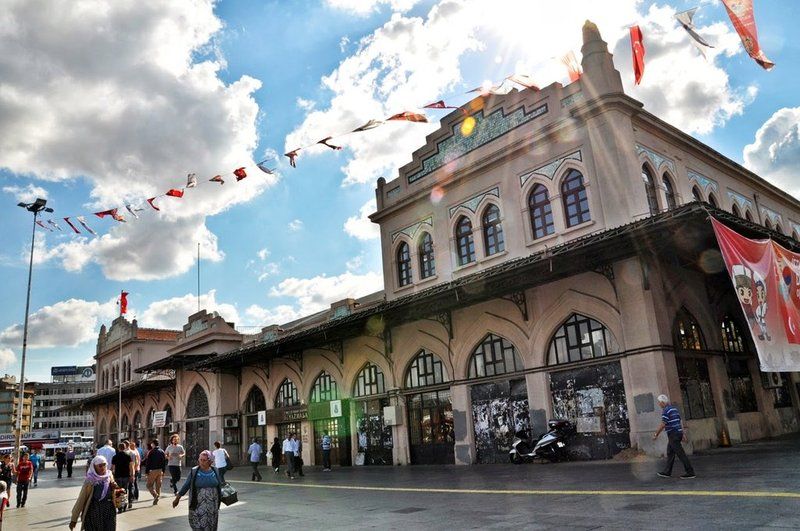 PHOTOGRAPHS ALBUM
Situated on the landing square (İskele Meydanı), the building, which hosts the theatre today, was constructed as the first modern market hall in Istanbul between 1925 and 1927. However, it stood vacant for a period of ten years since the traders in the agricultural marketing business did not want to be tenant.
In order to utilize the vacant building, some parts of it was used by the fire department, and some parts served as depot for scrap vehicles. Its purposeful usage began in the 1940s, lasting until the mid 1970s.
İSTANBUL ÜNİVERSİTESİ DEVLET KONSERVATUARI
After its complete renovation in 1984, the building was assigned to Istanbul University for use as conservatory in 1986. Finally, the ground floor of the building was transformed into a theatre venue in 1989.
KADIKÖY HALDUN TANER SAHNESİ
Kadıköy Haldun Taner Stage (Turkish: Kadıköy Haldun Taner Sahnesi) is a theatre venue located in Kadıköy district of Istanbul, Turkey. It is owned by Istanbul Metropolitan Municipality and operated by its City Theatres (Şehir Tiyatroları) division. The theatre is named in honor of the Turkish playwright Haldun Taner (1915-1986). Kadıköy Haldun Taner Stage has a seating capacity of 286.
LOCATION SATELLITE MAP
WEB SITE :
Kadıköy Old Market Hall
MORE INFO & CONTACT
E-Mail :
konserweb@istanbul.edu.tr
Phone : +90 216 338 1832 / +90 216 418 7639
Fax : +90 216 345 1679
These scripts and photographs are registered under © Copyright 2017, respected writers and photographers from the internet. All Rights Reserved.