Tahtakale, Fatih - İstanbul - Turkey
GPS : 41°01'00.9"N 28°58'07.7"E / 41.016917, 28.968806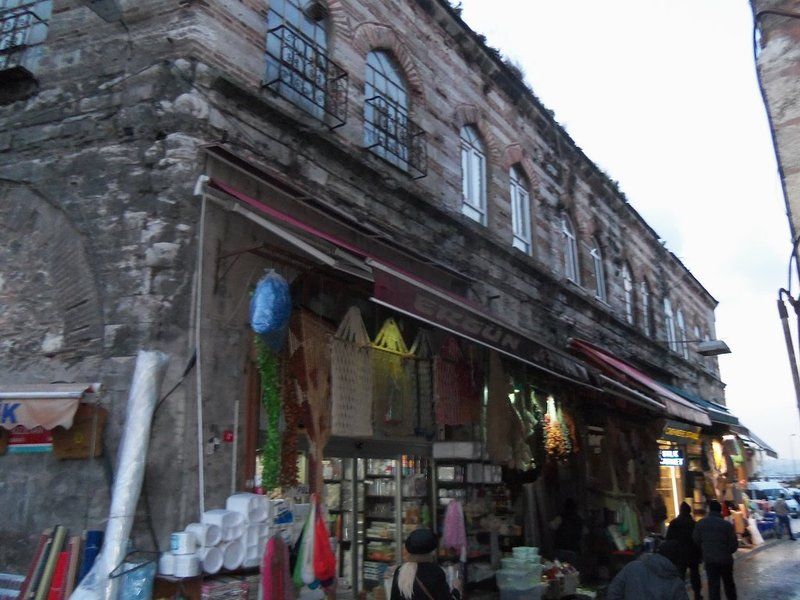 PHOTOGRAPHS ALBUM
The han is chiefly interesting for the extensive Byzantine vaults beneath it: these are reached by a staircase leading down from a shed in the middle of the courtyard. Great rectangular pillars of brick support massive brick vaulting in the usual herringbone pattern, covering an area of at least 2,000 square metres. This basement is used today, as it probably was originally, for storage of all kinds of goods.
The Balkapanı Han, which is located between Tahtakale and Balkapanı Streets, is a two storey structure with a single courtyard measuring 42 x 31 m. The oldest example of its kind, this han contains brick vaulted cellars designed in the Byzantine architectural style and its exact construction date is still unknown.
The vaults and superstructures on ground level were doubtless one of the many granaries or storage-depots which are known to have existed in this area from at least the fourth or fifth century. The structure must have been built as an endowed institution for Hagia Sophia in the 16th century during the Byzantine Period. It functioned as a han mainly for Egyptian merchants who came to the city for trade in the 17th century. Today it is still functioning although it was seriously damaged in the fires of 1688 and 1807.
For centuries the han was the most important warehouse for storing honey, candles, and oil brought from the Black Sea region. The inn, which was built in a place close to where the sea customs existed in the Ottoman era, was a commercial center where - as the name suggests - honey coming through customs was stowed and dispatched to the public. We should note that the word 'kapan' means 'scales'.
Balkapanı is like a classical caravanserai with a large yard. Although our guide talked about its rooms with arches and corridors, we could only see its yard, because most of the rooms are used as depots.
LOCATION SATELLITE MAP
These scripts and photographs are registered under © Copyright 2016, respected writers and photographers from the internet. All Rights Reserved.