Yeniköy, Sarıyer - İstanbul - Turkey
GPS : 41°07'05.0"N 29°03'57.7"E / 41.118043, 29.066035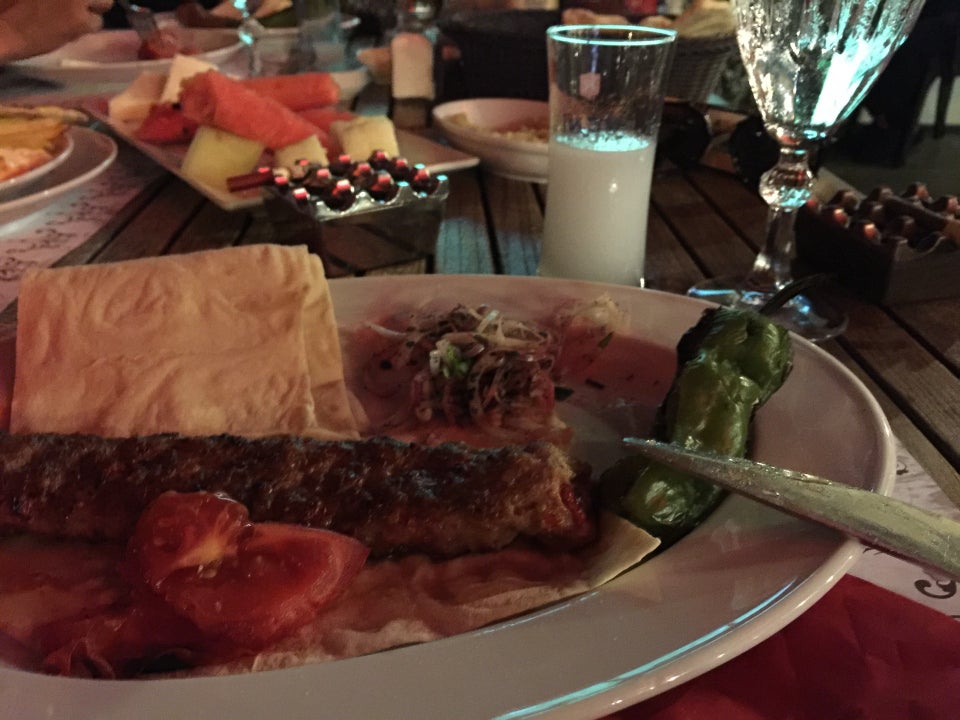 PHOTOGRAPHS ALBUM
One of the finest dining experiences to be had in Istanbul is that offered by Tiryaki. We began to serve the residents of Yeniköy. Our dedicated chefs cater for every palate, choosing only the best produce and combining them to produce outstanding food.
In our four-storey dining area and large garden, we can serve over 200 people with quality products and attentive service.
Start your meal with the seasonal mezze plates that are brought directly to your table. Amongst our customers' favourites are our piquant, raw meatballs and warmed humus. Follow this by some of our delicious hot starters, such as the cheese-stuffed grilled mushrooms.
Then prepare for the luxury of our kebabs: whether you choose thyme-covered cutlets; meatballs with soy sauce and butter; or a tasty Tiryaki pide. Then sit by the charcoal grill and watch as your kunefe bakes to delicious gooeyness.
Our Specials
Tiryaki Pita : This unique dish uses off the bone steak and cheese, baked to perfection inside a soft encasing of dough. The Gaziantep regional taste is further extended through the sprinkling of nigella, sesame and pistachio. The favourite derived from this dish come only be described as addictive.
Tiryaki Meatballs : These meatballs are prepared from finest quality lamb and combined with herbs. The wrapping of pastry dough traps the flavours as the meatball is cooked slowly on the grill; the succulent meat flavour enhanced by a secret sauce.
Tiryaki Kebab Spicy / Mild : The lamb used for this dish is specially selected from lambs from the Balikesir region. It can be prepared either mild or spicy, and gets its flavour from a delicate balance of oil and pepper. Its smoky aromas come from the charcoal fire over which it is grilled.
Butter Olive Paste : This is a regional dish from the South Marmara coast that uses Gaziantep-style butter from Bursa. Its saltiness is derived from the use of olive paste and its richness from goat's cheese. It is served with balloon-style flat bread and provides a delicious opening to your meal
Lamb Cutlet with Thyme : Juicy cutlets are taken from the lambs of the Balikesir region in Anatolia. They are marinated with our special spices and are served with thyme.
Lamb Shish : Delicious cubes of lamb meat are marinated in milk to make them melt in your mouth. Spices give them an extra level of flavour, and they are then roasted over the charcoal grill.
Beyti Yogurt : Beyti is a lavish dish which brings to mind the food of the Sultans. Minced lamb is mixed with spices, parsley and garlic. It is skewered and roasted over charcoal, and then combined with fresh lavash bread. Tomato sauce adds richness, while yogurt cleanses the palate
Pistachio Kebab : This dish is deeply reminiscent of the cuisine of the south east, where the pistachio is king. These nuts are ground and mixed with prime Balikesir lamb, and then grilled. Onions with a sprinkling of sumac add to the to the exotic flavour of the dish.
Creamy Kunefe : This speciality from Gaziantep is a fitting end to your meal. Fine durum wheat is cooked with white cheese and syrup over the charcoal until it becomes golden brown, ready to delight your tastebuds. It is served with soft cream and nuts
MENU
STARTERS
Goat Cheese
Mixed Pickles
Pita Balloon
Steak Tartar A La Turca
APPETIZERS
Aubergine Salad
Aubergine with Sauce
Barbecued Shallots
Beet
Ezme Salad
Haydari
Humus
Pilaki
Red Pepper
Vegetables Yoghurt
SALADS
Gavurdag Salad
Green Salad
Grilled Chicken Salad
Halloumi Salad With Beef
Season Salad
Shepherd's Salad
Tuna Fish Salad
HOT APPETIZERS
Bulgur Wheat Stuffed
Filo Wrapped Meatball
Mini Lahmacun
Mushroom Oven
Pita
Tiryaki Pita
Turkish Pizza
KEBABS
Chicken Shish
Chicken Wings
Lamb Chops
Lamb Ribs
Lamb Shish
Tiryaki Kebap Spicy / Mild
SPECIAL KEBABS
Beyti yogurt
Lamb Cutlet
Lamb Shish - Aubergine puree
Lamb Shish - Onion
Lamb with Yoghurt and Onion
Pistachio Kebab
DESSERTS
Fig Dessert
Homemade Baklava
Kunefe with Kaymak
Pumpkin Dessert
Quince Desserts
LOCATION SATELLITE MAP
WEB SITE :
Tiryaki Kebab Restaurant
MORE INFO & CONTACT
E-Mail :
info@tiryakikebap.com
Phone : +90 212 223 5344
Fax : +90 212 223 5304
These scripts and photographs are registered under © Copyright 2019, respected writers and photographers from the internet. All Rights Reserved.