Tarlabaşı, Beyoğlu - Istanbul - Turkey
GPS : 41°02'19.9"N 28°58'37.8"E / 41.038850, 28.977159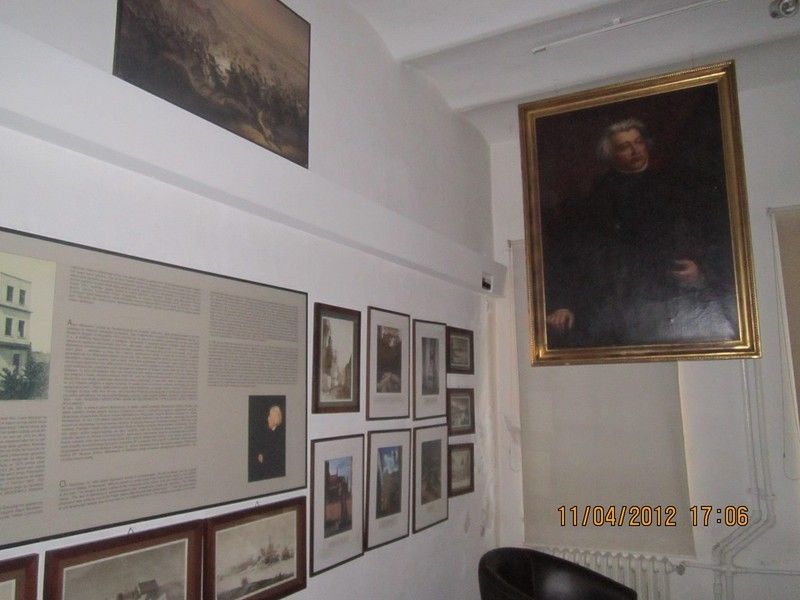 PHOTOGRAPHS ALBUM
Adam Mickiewicz Museum (Polish: Muzeum Adama Mickiewicza, Turkish: Adam Mickiewicz Müzesi) is a historic house museum dedicated to the life of Adam Bernard Mickiewicz, renowned Polish poet. It is located in the district of Beyoğlu, on the European side of Istanbul where Adam Mickiewicz lived and died.
Mickiewicz came to Turkey in September 1855 to help organize Polish forces under the Ottoman Army. He befriended Michał Czajkowski (Sadık Paşa) who commanded the Polish forces there. The museum today is administered by the Turkish and Islamic Arts Museum.
The house was renovated after a fire in 1870. His house in Tarlabaşı neighborhood near Beyoğlu was converted into a museum in 1955 to commemorate 100th year of his death with the help of the Museum of Literature in Warsaw. He died during a cholera epidemic in Istanbul in 1885. The crypt where Mickiewicz was temporarily buried for the period of one month is located in the basement. After being temporarily buried in a crypt under his apartment in Constantinople (now Istanbul), his remains were transported to France and buried at Montmorency.
The museum divided into three halls, the museum is devoted to the life and works of this poet. The first hall displays an exhibition of the history and traditions of Poland, as well as Mickiewicz's literary works and personal belongings from Poland. The second hall is dedicated to Mickiewicz's efforts in the Polish national movement, and the third hall contains documents, photographs and engravings from the years he spent in the Ottoman Empire.
In 1890 they were disinterred, moved to Poland, and entombed in the crypts of Kraków's Wawel Cathedral, which is shared with many of those who are considered important to Poland's political and cultural history.
Inside the museum, there are many documents and information about the poet and his works, manuscripts of Adam Mickiewicz, historical documents and paintings, photographs of Constantinople of that time, and documents of Polish Liberation struggle. There is also a symbolic grave of the poet in the basement of the building.
Adam Bernard Mickiewicz, Polish romantic poet and playwright, was born in Zaosie in 1798. He was arrested by the Russian police in 1823 because of taking part in a semisecret group which protested Russian control of Poland, he was jailed and then exiled to Russia. After his release, he spent the rest of his life in Western Europe and in Turkey where he continued to write his poems.
In 1855 Mickiewicz's wife Celina died. On the outbreak of the Crimean War, he left his under-age children in Paris and went to Constantinople, the Ottoman Empire, where he arrived 22 September 1855, to organize Polish forces to be used in the war against Russia.
With his friend Armand Levy, he set about organizing a Jewish legion, the Hussars of Israel, comprising Russian and Palestinian Jews. He returned ill to his apartment from a trip to a military camp and died on 26 November in his apartment on the Yenişehir street in Istanbul). He had most probably contracted cholera.
LOCATION SATELLITE MAP
WEB SITE :
Adam Mickiewicz Museum
MORE INFO & CONTACT
E-Mail :
tiem@tiem.gov.tr
Phone : +90 212 518 1805
Fax : +90 212 518 1807
These scripts and photographs are registered under © Copyright 2017, respected writers and photographers from the internet. All Rights Reserved.